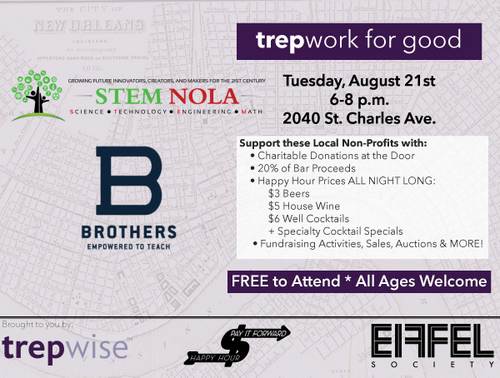 A happy hour fundraiser tonight at the Eiffel Society on St. Charles Avenue will benefit two New Orleans education nonprofits, one that recruits more black male teachers to provide positive role models in the classroom, and one that promotes success in science and technology.
Hosted by the philanthropic organization "trepwork," the fundraiser will run from 6 to 8 p.m. tonight (Tuesday, Aug. 21) at the Eiffel Society, and proceeds from drink specials will benefit the Brothers Empowered to Teach and STEM NOLA nonprofits. For more information, see the event announcement below from trepwork:
WHAT:           "trepwork for good" – a philanthropic event series hosted by trepwise & Eiffel Society to highlight eight local non-profits with four Pay it Forward Happy Hour events, once a month from August through November, to increase awareness and fundraising opportunities for each participating organization. The first "trepwork for good" event will have a "Back to School" theme and will showcase two education-based non-profits, Brothers Empowered to Teach and STEM NOLA.

Happy hour prices will be available all night long with $3 beers, $5 house wine, $6 well drinks + signature cocktail specials. Guests can enjoy "The Bruh," a rum-based specialty cocktail for only $7. Come thirsty as 20 percent of the bar proceeds will be split by both organizations, which will also be collecting suggested donations at the door. Each organization will have the opportunity to address the crowd and will have their own fundraising activities on-site. Attendance is open to all ages and is FREE, but please register on Eventbrite HERE.

WHEN:           Tuesday, August 21, 2018, 6 – 8 p.m.

WHERE:         Eiffel Society, 2040 Saint Charles Ave, New Orleans, LA 70130

Brothers Empowered to Teach's mission is to generate a pipeline of incredible teachers who mirror success for their students by recruiting men of color into classroom-based careers. Since Fall 2014, we've placed 15 fellows, in three schools and a city-wide after-school program, impacting 2,200 kids in New Orleans alone. Now ending our fourth and final semester of the program pilot, we have placed five graduates in opportunities in local classrooms. For more info, visit:http://www.be2t.org/ and Like on Facebook, Follow on Twitter @REALBRUHSTEACH and Instagram @realbruhsteach and donate here: http://www.be2t.org/donate1/. 

About STEM NOLA

STEM NOLA (SN) is an organization founded by New Orleans native, and former tenured Tulane University Engineering professor, Dr. Calvin Mackie. The purpose of its existence is to expose, inspire and engage members in the surrounding communities about the opportunities in Science, Technology, Engineering and Mathematics (STEM). STEM NOLA will design and deliver activities, programs & events that bring inspiration, motivation and training to all STEM stakeholders, specifically focusing on underserved communities, across the city. Participants will receive the opportunity to obtain 21st Century skills of Communication, Collaboration and Critical Thinking. STEM NOLA realizes that any effective community-based STEM program must be broad enough to include everyone, yet focused enough to reach the people where they are, on their level, and, taking them to where they need to be to compete, and succeed in life. For more information, please visit: http://stemnola.com/, like on Facebook, follow on Twitter and donate here: http://stemnola.com/donate.html.

trepwise was founded in 2013 with the mission of being a growth catalyst for entrepreneurial cities. Today it is a robust advisory team with broad cross-functional knowledge. trepwise advisors are well-educated, passionate individuals with experience working with hundreds of organizations here in New Orleans and beyond. The company's client portfolio is a mix of organizations, from the for-profit, non-profit and public sectors, from virtually every industry, including education, financial services, food & hospitality, technology, the arts, faith-based institutions and many more.

Located in Central City on Oretha Castle Haley Boulevard, trepwise is a for-profit, values based, and mission driven company. It uses innovative approaches to scale and sustain organizations by providing practical and creative solutions. trepwise provides clients across all sizes, sectors, and industries with the pathways to organizational capacity building in the fields of: Marketing, Finance, Operations, Organizational Culture, Leadership Development, Governance, Strategic Planning, and Impact Measurement.

Connect on Facebook or follow on Twitter (@trepwise) and LinkedIn. For more information, visit: www.trepwise.com.