The beloved characters from children's author Mo Willems sing and dance their way through an hour-long vaudevillian romp suitable for the smallest theatre-goers and priced for families.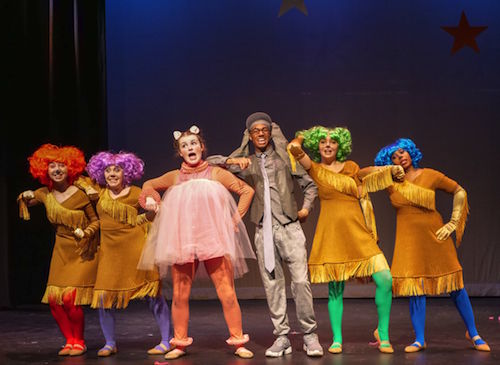 An elephant named Gerald and a pig named Piggie are best, best, "bestus" (a word Gerald and Piggie made up that means "very best") friends, but Gerald worries that something could go wrong that would end their friendship. Piggie is not worried at all. She's even happier and more excited than usual. That's because she and Gerald are invited to a party hosted by the Squirrelles, three singing squirrels who love to have a good time.
And so begins a day when anything is possible. Pachydermal peril and swiney suspense ensue! Filled with beloved characters and lively songs, it's a perfect way to introduce young people to theatre.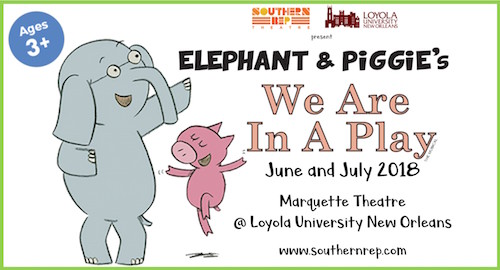 Kids tickets are just $10 ($15 for adults). Group rates are available for day camps, summer schools, and youth groups by contacting the box office directly at 504-522-6545.
Performances take place at Loyola University's Marquette Theatre. Parking on campus in the West Road Garage is free for Southern Rep audiences during performances. Advance purchase is preferred but tickets are also available at the door at Marquette Theatre, which is located on the second floor of Marquette Hall, directly behind the main horseshoe drive on St. Charles Avenue.
Performances
Friday, June 15 – 12:30 PM
Saturday, June 16 – 11 AM
Saturday, July 7 – 11 AM
Sunday, July 8 – 2 PM
Friday, July 13 – 12:30 PM
Saturday, July 14 – 11 AM
ELEPHANT & PIGGIE'S "WE ARE IN A PLAY" is based on the Elephant and Piggie books by Mo Willems, published by Hyperion Books for Children, with script and lyrics by Mo Willems and music by Deborah Wicks La Puma. Southern Rep's production is directed by Big Easy Award winning actress Becca Chapman.