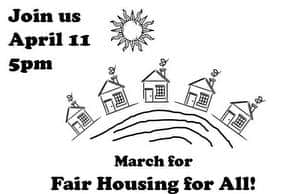 Community activists from a coalition of social-justice organizations will rally today, the 50th anniversary of the Fair Housing Act, with a second-line in support of an ordinance designed to ensure people released from jail are not discriminated against by landlords.
The second line will begin at 5 p.m. today (Thursday, April 11) on Martin Luther King Boulevard at the corner of Willow Street, organizers said.
For more information about the organizations involved and their goals, read the event announcement below:
New Orleans is the most incarcerated city in the most incarcerated state in America. More than 15,000 New Orleans residents are locked up in prisons and jails throughout the state and federal prison systems, while, another 15,000 people cycle through the local parish jail, which has twice the incarceration rate of any American city. Every month, hundreds of those people, along with those from other parts of the state, come back into the city and its surrounding areas looking for job opportunities or social services. Jefferson Parish, for example, has as many people as Orleans Parish and yet has no reentry programs.

Among those tens of thousands of families dealing with the lifelong impacts of a criminal record, it is well known that many landlords will refuse to take the money from prospective renters. Making matters worse, landlords will charge a non-refundable application fee (that includes a background check) with no guidance on their policy, if they have one at all.

On April 11th, the 50th Anniversary of the Fair Housing Act, a coalition of organizations and people from around New Orleans will hold a second line down Martin Luther King, Jr. Boulevard to draw attention to this legalized and embedded form of discrimination.

The second line begins at the corner of MLK and Willow St. at 5pm.

"It's not about who's right, but about what's right," says Norris Henderson, Executive Director of Voice of the Experienced (VOTE), and one of the coalition organizers. "New Orleans is a city that is going to sink or swim together. This 300th Anniversary is the perfect time to fully address the problems of discrimination based on criminal records, which impacts a third of residents."

The coalition, including Stand With Dignity and Greater New Orleans Fair Housing Action Center (GNOFHAC), was previously responsible for pushing HANO to reform the admissions policy to public housing in 2016. They plan to bring an ordinance before the New Orleans City Council.

"People who have paid their debt to society deserve a fair chance at finding a home," says Cashauna Hill, Executive Director with GNOFHAC. "Unfortunately, our investigations have found that criminal background screening policies are often applied unequally to keep people of color out."

"We need community investment in New Orleans," says LaToya Lewis, a Stand With Dignity community organizer and key contributor to the HANO reform. "There's far too many who've come to the city to make their own personal financial gains, leaving the community to suffer. It's beyond time for the community to be prioritized over big business."

The coalition also includes Women With a Vision, Promise of Justice Initiative, Operation Restoration, Orleans Parish Prison Reform Coalition, Power Coalition, and Louisiana Prison Education Coalition.