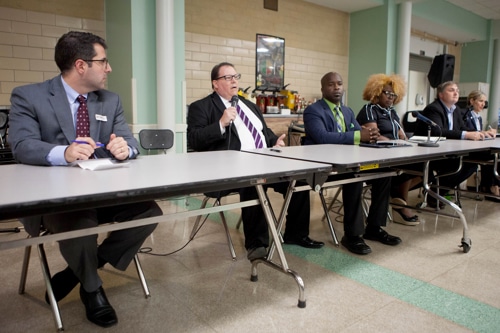 From Mid-City Messenger
City Council District A candidates all have varying solutions for the ongoing Sewerage and Water Board fiasco, including hiring staff with water management experience and using spare Department of Public Works employees to clean out catch basins.
All agreed, however, that more oversight is needed for the state-created entity.
The city, rather than the Sewerage and Water Board, was responsible for the August flooding, said Drew Ward, linguist. Catch basin maintenance is under the Department of Public Works, Ward said, so the City Council "chose not to do their jobs," resulting in criminal malfeasance. Ward finished off his one-minute response by showing off a 1971 Mardi Gras doubloon he found while cleaning out the drain in front of his house.
"That means that not only did Mitch not clean the catch basins, neither did his dad," Ward said.
Aylin Maklansky, former legislative director for District C Councilwoman Nadine Ramsey, rebuked Ward's claim that city officials were directly responsible for the flooding, rather than the Sewerage and Water Board. The city undertook cleaning drains in the 1990s when the drainage millage was not renewed, though S&WB still has the authority to manage the catch basins since it was created by the state, Maklansky said. Three city councilmembers used to sit on the S&WB's commission before a public vote reorganized the board.
"Let's be truthful here about whats going on with the Sewerage and Water Board," Maklansky said.
Dan Ring, Bayou St. John resident born and raised in Boston, suggested using Public Works employees for certain Sewerage and Water Board tasks. The City Council didn't "do their due diligence" overseeing the commission, Ring said, so more oversight should be put into place.
"If we really utilize all of our assets we can really get this done in an efficient way," he said.
Joe Giarusso, attorney, argued for a stronger public works committee – which includes City Council members and department staff – to provide actual oversight. When Entergy encounters an issue, they walk through what's needed with the utilities committee; Giarusso said the same accountability should exist for S&WB.
"We need a 'trust but verify' system to make sure the work that is supposed to be done is actually getting done," he said.
Water management experts are needed to lead the commission and a solid plan should be established before another emergency, said Tillman Hardy, CEO of CORE USA community development firm. Hardy likened Augusts' floods to a lack of planning before Katrina; five years before the storm, the U.S. Army Corp of Engineers requested $13 billion for levee work. That request was denied.
"We need subject matter experts … to help lead us to a plan that we follow, verbatim, without having to depend on the leadership that doesn't have the knowledge," Hardy said.
Toyia Washington-Kendrick, vice principal at Esperanza Charter School, said the August flooding was the "straw that broke the camel's back." She also argued for more S&WB oversight, especially given the power the City Council is granted by its charter.
"Nobody wants to come outside their house after 30 minutes of rain and be flooded," Washington-Kendrick said.
About 80 people came out Thursday evening to hear all six District A candidates talk infrastructure, public safety and the ongoing Sewerage & Water Board fiasco. The town hall was hosted by Carrollton neighborhood groups.
All six District B candidates are slated to participate in a District B forum, this time hosted by a collaboration of Greater Mid-City organizations. That forum is scheduled for Thursday, Sept. 28 form 6- 8 p.m. at Tulane Tower, 2601 Tulane Ave.