Antiques on Jackson's two distinctive spaces are owned by husband and wife, Simon and Maria, who are always excited to welcome visitors. In the store, the walls and ceilings are filled with beautiful one-of-a-kind pieces with unique stories that transport you to different times.
The open-air art courtyard is home to local artist Simon of New Orleans whose iconic hand-painted pieces and signs can be spotted all around town.
Shopkeeper: Simon and Maria
Shop: Antiques on Jackson and Simon of New Orleans
Since: 1994
What ignited the spark in you to start your business?
I started my business in 1994 because I needed to do something. I could not find a job as a chef, so I started to paint while I was working in the back of the Antique Shop. I started with small signs and sold them for two or four dollars. Fast forward to today and we have stayed true to that: my wife, Maria and I now operate the business as a duet; she manages the inside of the shop with the antiques and I paint here in the courtyard.
What makes New Orleans businesses so special?
People always come back! They come once to your shop and then you see them come again later. They don't always come to buy a piece, but sometimes just stop to say "Hello!" They love to come during Mardi Gras, Jazz Festival, and for every other festival. At the end of every year, I know nearly everyone who comes in my shop. I have no email; I just wait until people come by.
Who are your customers?
People who are local to New Orleans are my customers. Most of the people are families of New Orleans.
If your shop was a cocktail, what kind would it be?
Sazerac! It is a classic New Orleans drink. I do nothing that is not New Orleans.
Describe your business in a few words.
It is colorful and happy. Everyday I make people smile when they come here and see my signs.
How do you define "success" in your business?
Having people around me like my wife and the people who help me paint brings me pleasure. Success in my business has a lot to do with surrounding myself with people I love, people who inspire me, and people who make running a business an enjoyable experience.
What are your current or any upcoming goals for your business and/or community?
I don't alway know what's going on. I like to go day by day. What I cannot do this week, for example, I just finish it tomorrow. The next big project is for Tucks for Mardi Gras next year.
What's your favorite local biz in your area?
I like Joey K's creole restaurant at 7th and Magazine. It is a small business that I love. The chef has been there a long time and is a nice old creole guy. I have put my signs there for nearly 10 or 15 years. When I go to meet them, I feel like I am a part of New Orleans. It's nice when the entire place knows you.
I also like to go to Ace Hardware, which is where I buy my painting supplies.
What advice would you give a new business owner?
Be like a bank. No passion. No ego. Do your job and that's it. Don't do what the next shop or person is doing. Stay focused and open the shop you want to have. Business is not an overnight success.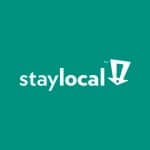 While drainage system improvements and road construction make "shopping local" a bit more challenging in the short term, the critical improvements mean our city will be safer and stronger for generations to come. We hope you are inspired and continue to shop small and shop local—even if it takes a little extra time!
The Shopkeeper Stories are brought to you by StayLocal, the Greater New Orleans independent business alliance, in partnership with Uptown Messenger. Learn about their work or become a member at www.staylocal.org or email info@staylocal.org.