The building that was home to Cafe Freret for 11 years until the end of 2015 is now undergoing structural renovations as its owner seeks a new restaurateur to take over the space.
Cafe Freret, a university-area grill and brunch spot on the corner of Lowerline Street with a large outdoor seating area and a following among dog owners, closed in late December 2015, according to a note on its Facebook page.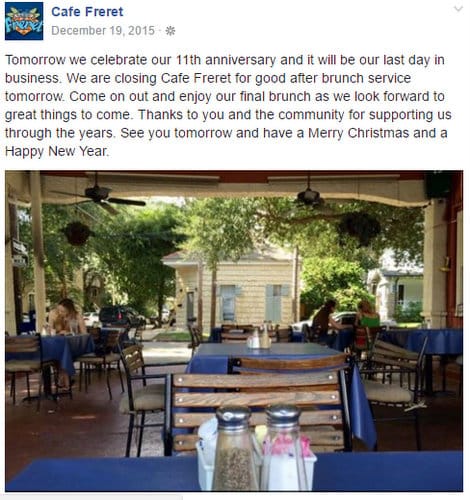 In January 2017, the owners of the building — Paul and Jody Ferchaud of Honolulu, Hawaii — received permits for $150,000 in structural renovations of the vacant building, to repair the foundation, the first-floor walls, and the second-story ceiling supports, according to documents filed with the city.
Jody Ferchaud — whose family has owned since at least the 1980s, according to online property records — said she hopes to find another restaurant to take the place of Cafe Freret when renovations are complete.
"The property is currently zoned for a specialty or full service restaurant," Ferchaud said. "I hope to find a restaurateur who will embrace this great location."
Jared Munster, director of the city's Safety and Permits department, confirmed in a letter in March that the property retains its conditional use as a restaurant with the sale of alcohol. Munster declined, however, to offer any opinion on the status of any "good neighbor agreement" that may affect the property.