The Shopkeeper Stories series shares the vision and personality of New Orleans business owners. Locally owned businesses infuse New Orleans neighborhoods with their unique character, and are a big part of why we want to live, work, eat and shop here.
While drainage system improvements and road construction make "shopping local" a bit more challenging in the short term, the critical improvements mean our city will be safer and stronger for generations to come. We hope you are inspired and continue to shop small and shop local—even if it takes a little extra time!
Shopkeeper: Maggie Covert
Shop: WalkingMan Studios
Since 2013
What ignited the spark in you to start your business?
Growing up in New Orleans, I always had a passion for the city and architecture. I grew up in a large Uptown home that I was obsessed with. Then I moved to Baltimore for college and the architecture (minus the brown stones), history, and culture there was very similar to New Orleans because it is a port city.
After Katrina, I thought a lot about the idea of having a connection to the inanimate object since it's so ingrained in your childhood and your memories. This connection was super important to me when returning home after Katrina. Having finished my art degree somewhere else, I came back to the same home and a city that was inevitably changing.
So I thought, how do you pay homage to that inanimate object that you love so much and that really is a part of your family? That's how I started doing the custom home portraits. A lot of artists all over the U.S. and other countries do custom house portraits, but I like to call them "home portraits" because it really is an extension of your family. You have an attachment to that place, no matter how long you've lived there.
What makes New Orleans businesses so special?
We're a small, big city. The fact that there really is only one or two degrees of separation, makes customer interactions so much more special, because in the end you probably know their brother, their cousin or their mom.
My parents are both fairly well-known in the theater community – my dad was a writer for the newspaper; my sister owns a pet-sitting business; my mom owns a snowball stand. Also, my grandmother invented a type of cuisine in New Orleans called "Kosher Cajun" and "Kosher Creole." She just recently passed away and people from everywhere were writing articles about her. It's kind of fun having a family that has local celebrity and I like that I can keep that going.
Who are your customers?
We get a lot of the Uptown clientele – People in the neighborhood or folks shopping at Whole Foods. People sometimes tend to have tunnel vision when heading to the grocery and so it can be potentially detrimental being so close, as well as people coming in from the surrounding businesses aren't necessarily looking for custom art. At the same time, we have pieces that are marketed towards clients who might be looking for something like a print or an item that's less than $50. Most of my work is custom designed, so while someone might come in and buy a pre-printed map, they might come back in later and buy a custom designed map with their favorite places.
I've also started doing a lot more wedding invitations and save-the-dates based on my quirky illustrations and the fact that people want such a personalized thing to go with their super personal day. These have become very popular!
If your shop was a cocktail, what would it be?
For my business, it would be a Bloody Mary – spicy but still healthy, and no matter how many weird ingredients you add to it, it still tastes basically the same. It is so New Orleans with the seasonings and all the ingredients!
For the shop, on the other hand, it has a clean and refreshing feel, it's more of like a Pimm's Cup – the cucumber is kind of unexpected, but the drink still has delicious and refreshing taste.
Two very different drinks, but both very refreshing.
Describe your business in a few words.
Whimsical illustrations and paintings paying homage to our beloved city. In my drawings, I like to use fun characters that show the lovingness of the city, but also show that there is class here. I also don't use pencil in my drawing, only pen. So if there is a mistake (this applies to my business and life in general) you have got to make it work and where you can, you even it out.
What's your favorite local biz in your area?
I love District! I go in mostly for the Matcha Latte, which is a little more of a chill, sustainable caffeine for me.
I love the Uptown Pharmacy and the people who run it—the owner of the building is a good friend with my family. The Pharmacy is one of the original staples in New Orleans and one of the only family run pharmacies that are still around. It's that personal connection where you can walk in and they kind of already know what you need, whereas at a national pharmacy they most likely don't even know who you are.
Will you share your secret lunch or dinner spot?
I don't know if these are really a secret, but my husband and I love a few. First, we love Casamento's, but they are only open during oyster season. Their oyster loaf is delicious. We like to go to Chiba on Oak Street, which I believe to be the freshest sushi in the town. What I like the most about going there, besides the fact that everything is delicious, is that most of the time, the owner is there. It doesn't matter if it is 11 p.m. or lunchtime; he is there. And then for breakfast or brunch, we like to walk down to Toast. It's probably everything you can make at home, but it just tastes so much better when they make it for you.
What advice would you give a budding business owner?
Some of the advice I give myself everyday I wake up is:
Don't over think it.
Stay true to yourself and your voice.
Let it evolve. You may have had plans, but that doesn't mean you have to necessarily stick to what you thought was going to happen day-to-day, month-to-month, year-to-year.
Let it evolve, because your customers really are going to tell you what they want and you roll with the punches…it's good. I mean it is tough; I'm not going to say it's not hard, but trying not to overthink things is so huge for me.
Learn more about WalkingMan Studios at walkingmanstudios.com.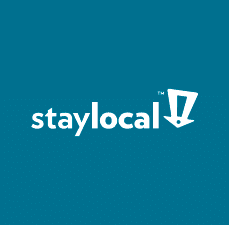 The Shopkeeper Stories are brought to you by StayLocal, the Greater New Orleans independent business alliance, in partnership with Uptown Messenger. This series runs every first and third Tuesday of the month. StayLocal is devoted to raising the visibility and viability of locally-owned businesses across New Orleans through marketing, advocacy, and education. Learn about their work or become a member at www.staylocal.org or email info@staylocal.org.