On Wednesday, October 26th, LCIA is hosting a breakfast workshop, "HR in the AM: Running Out of Time to Comply with New Overtime Rules". The event, which is open to the public, will take place from 8:15 to 9:30 a.m. at the Fair Grounds Race Course in New Orleans. Small business attorney Terese Bennett will give a presentation outlining new overtime laws.
Significant changes to federal overtime rules take effect on December 1, 2016, raising the salary threshold for exempt workers to $913/week or $47,466 a year. Ms. Bennett will discuss the ins-and-outs of the new rules, including an overview of the Fair Labor Standards Act and options for compliance. She'll also give attendees a step-by-step checklist to help you prepare for those changes.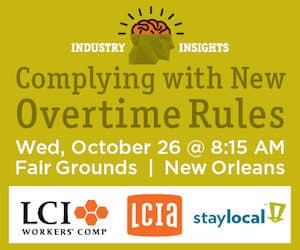 Business owners, HR staff, and office managers are all encouraged to attend. If you have salaried employees, there may be steps you need to take. Bring your questions, and join us for a valuable discussion over breakfast.
When: Wednesday, October 26, 8:15 to 9:30 a.m.
Coffee and registration will take place from 8:15 to 8:30, with the presentation starting at 8:30.
Where: Fair Grounds Race Course, 1751 Gentilly Blvd, New Orleans, LA 70119
Fee: Free for LCI policyholders and partnering agents. Free for StayLocal members. $15 general admission. Open to the public.
Free parking is available in the Fair Grounds parking lot. Coffee and breakfast will be served.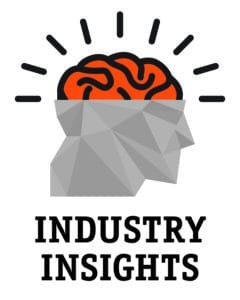 Meet the Speaker
Terese M. Bennett has represented corporate clients in transactions and commercial litigation for more than 25 years. She has represented clients in the public and private sectors in business negotiations and contracting, licensing, procurement, employment, compliance and regulatory matters.
Industry Insights is a collection of events, resources, etc. that provide industry-specific assistance to Louisiana businesses, including events that appeal to all industries. Industry Insights is a program of LCIA, the Member Services Arm of LCI Workers' Comp.

For questions, contact Christina Buras at 985-612-6733.