Businesses and organizations on Freret Street have been individually responding to the Baton Rouge-area flooding for the past two weeks, and now they are uniting their efforts to focus on providing for families' babies and pets that other relief efforts may not reach.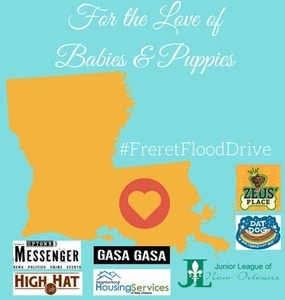 As part of the "Freret Flood Drive," donations of baby and pet supplies are being accepted at the Blooming Deals Thrift Shop at 4645 Freret, Neighborhood Housing Services at 4605 Freret, and the Junior League headquarters at 4319 Carondelet, as well as bins with the #FreretFloodDrive logo being placed along the Freret corridor at locations like High Hat Cafe, Dat Dog, Gasa Gasa and Freret Street Poboys.
The items needed include:
Baby formula,
Diapers and pull-ups,
Dog and cat food (wet and dry), especially wet puppy food,
Dog collars and leashes
Collapsible crates
The Junior League of New Orleans has already partnered with companies like Bart's Office Furniture Moving and Repairs and All My Sons Moving & Storage to send diapers and other baby needs to the flooded areas.
"The average infant uses 10 to 12 diapers a day, and a one year old uses 6 to 8 diapers a day," the Junior League noted on Facebook, so the 50,000 diapers they delivered in one shipment was only expected to help about 200 families for the next month.
Michelle Ingram of Zeus' Place has made nearly a dozen "heartbreaking" trips into the flood zone, she said, first rescuing 176 animals from flooded shelters and then another 80 strays from the streets that she is trying to reunite with their owners. Many were injured and required veterinary treatment here in New Orleans, and she still has 40 cats and 15 dogs that she is caring for at Zeus' Place.
Some of the donations she receives will go toward their care, and the rest will be delivered to Canine Connection to be taken to a distribution point in Livingston Parish, Ingram said.
"We'll deliver them to families who are trying to keep their pets but lost everything," Ingram said. "It's whatever they need to keep their pet with them, so they're not having to give them up because they can't afford to feed them."
Amy Batiste of Neighborhood Housing Services said it was a natural fit for her organization to help coordinate the efforts already underway by groups on Freret Street.
"As a community partner here on the Freret Corridor and as a mission-driven organization, we want to lend our capacity to help vulnerable families impacted by the Flood," Batiste said. "It was not too awfully long ago that the communities of Baton Rouge and beyond reached out a helping hand to us. We are here standing with them in resilience, hope and action."
Donors can order supplies through Amazon.com and have them shipped to Neighborhood Housing Services or the Junior League. Neighborhood Housing Services is also collecting cash donations for the effort.
"The Freret Family of Community Organizations and Businesses understands the financial strain that comes with buying JUST ONE box of diapers, can of baby formula, or bag of pet food," according to the FreretFloodDrive.com website launched as part of the effort. "We also remember that these items are not covered by insurance nor any safety net provisions. We want to help relieve some of the immense burdens Louisiana families all over the impacted region are feeling."
For more information, visit FreretFloodDrive.com.