By Della Hasselle and Robert Morris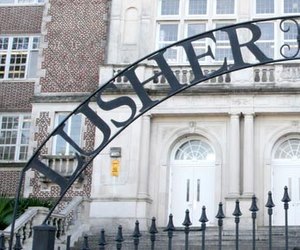 Lusher Charter School's governing board voted unanimously Saturday to seek a court order against a new school funding formula, on the grounds that the Louisiana constitution specifically prohibits funding schools different from parish to parish.
The Audubon Charter School board also voted Saturday to continue exploring similar legal action, though school administrators will return to the board before making a final decision.
'A single formula'
Lusher attorney James Brown told the Lusher Charter School board that he will send a letter to the state Board of Elementary and Secondary Education, the Louisiana Department of Education, and the Orleans Parish School Board, arguing that the vote on the new funding formula should be delayed until two legal issues can be worked out.
First, the state Constitution specifically prohibits the adoption of funding formulas that do not treat all parishes the same, Brown said.
"Article 8, Section 13 of the Louisiana Constitution mandates that BESE adopt a single annual MFP formula that applies to all school systems and schools throughout the state," Brown said. "The Louisiana Constitution does not authorize, and in fact expressly prohibits, BESE from adopting a separate MFP formula that would be applied only in one parish, in this instance New Orleans. In other words, through the Louisiana Constitution, the people of this state have wisely prohibited BESE from doing exactly what it's proposing to do here."
Second, the letter will argue that the formula violates state and federal "equal protection" statutes, as there is no rational basis for treating Orleans Parish differently than the rest of the state — especially since the state Constitution prohibits it, Brown said. Nowhere else, for example, are schools facing an 80 percent reduction in funding for special education, Brown said.
If BESE doesn't agree to delay the vote, Brown will seek a court order preventing them from implementing the new formula, he told the board.
"A little bit more time could avoid litigation," Brown said.
The basis Brown described for the lawsuit echoes the arguments Lusher officials have been making for months, that New Orleans schools should not be funded differently from those anywhere else in the state.
"I don't think we should take this cut, because it treats Orleans Parish differently from every other parish in the state of Louisiana, something that's incomprehensible," said board member Rachel Wisdom on Saturday. "The normal kids and the gifted kids here are not less deserving than the kids across the rest of the state."
'An unclear situation'
Lusher board members voted unanimously in favor of authorizing Brown to begin that process, and expressed their concerns about the mechanism of the new formula.
The task force that created the new formula this week said that it prevents any school from losing more than 2 percent of its current budget. It will also, however, prevent schools that would receive a larger cut under the formula from receiving any increase in funding from that point until growth in tax revenue exceeds that number.
For example:
Under the newest version of the formula, Lusher estimates that its funding would be cut by approximately $728,000, or roughly 5.4 percent of its current budget.
Since the maximum cut that can be imposed is 2 percent of current funding, Lusher's allocation will instead be cut by about $291,000.
As state and local tax revenues grow, the base amount of the formula will as well. But Lusher will not see any increase in its funding until the formula calls for it to receive more than 98 percent of its current amount. In essence, the base amount of the formula has to grow enough to make up the expected $437,000 deficit between what the formula allocates to Lusher for next year and what Lusher actually receives — and no one knows how many years that will take.
Recovery School District officials said they did not have the specific changes in funding each school would receive after the vote on Wednesday. Lusher board members said the lack of information about the funding changes complicates the problem.
"It makes an unclear situation even more unclear," said Lusher board member Ann Salzer.
The board members expressed concern that the source of the money to make up the shortfall between what the deficit projects and what the task force promises has not been precisely defined. Even when that revenue source is named, it is risky to trust it given the state's overall budget crisis, warned board member Richard Cortizas.
"It's really unfortunate that they've pitted schools against schools," Cortizas said.
There is simply too much uncertainty surrounding the issue to justify a vote on it next week, concluded board chair Blaine LeCesne.
"We don't want to litigate," LeCesne said. "We don't want to spend more taxpayer money on litigation costs, but we're left with no choice."
The board then voted in favor of authorizing Brown to proceed with the letter and court action if necessary.
'Strength in numbers'
Audubon Charter School's governing board also met Saturday morning over the funding issue, and their arguments were similar to Lusher's.
"It's just that we're being treated differently from other places in Louisiana," said operations manager Alisa Dupre. "It's curious as to why we're being treated differently in New Orleans."
The issue at Audubon is less the 2-percent cut the school is immediately facing, and more about the subsequent years without an increase, Dupre said. During that time, teachers will need raises, retirement and utility costs will rise, and more instruction materials will all have to be bought.
"Whatever our per student amount is capped at … that's fine for next year," Dupre said. "[But] as local costs increase, our local revenues won't increase. We're going to stay at this cut for the next 4-5 years. Our expenses are going to continue to go up."
Several Audubon board members agreed. Dr. Erica A. Murray, however, brought up the concern about the additional cost to Audubon of a potential lawsuit:
"We need to consider a budget for a legal battle," Murray said. "Are we the only charter school considering the option or are there others? If we're going into fight solo…well, as they say, there's strength in numbers.
"We have to make sure we're not being reckless. We can't keep throwing everything in one barrel," Murray continued. "How much are we going to put into this legal fight? Let's see what our options are. I want to be on record saying we need to come back to this board, and that we need to start discussing options you find out before we start spending money legally."
The board members agreed that they need to set a projected budget for litigation, but also acknowledged that they have to act quickly — possibly as soon as Monday. The state Board of Elementary and Secondary Education begins holding committee meetings Thursday, and its general meeting Friday.
Dupre said the primary goal for now is to prevent any vote by BESE this week, so that schools have more time to study the impacts on them.
"There are several things we are concerned about in the formula," Dupre said. "And we want BESE to delay the vote because we want to address those issues."
The Audubon board voted to allow school administrators to continue gathering information about the cost and scope of any lawsuit, but to reconvene the board for another vote prior to taking any legal action.
'Universally supported'
Supporters of the task force have argued that Orleans Parish does need a different funding formula than the rest of the state, because its students are segmented across so many different charter networks. In a traditional school district, money for gifted and special education is all received into the same general fund, and one category can help sustain the other when needed. In New Orleans, by contrast, schools with high populations of severely disabled students are often in separate charter networks from those with high populations of gifted students, unfairly burdening some schools with the much higher costs of special education.
On Saturday, minutes after Lusher's vote, the Recovery School District issued a statement describing the widespread support by New Orleans educators for the new formula, and criticizing the prospect of a lawsuit to stop it:
A committee of local education leaders established by Act 467 approved 10-1-1 a formula that ensures the schools serving the neediest students in our city are receiving the funding they need to support those students. This committee included three OPSB charter schools and three RSD charter management organizations as well as organizations including the Louisiana Center for Children's Rights and the Southern Poverty Law Center.

Charter board chairs representing 19,000 of our city's students have also voiced their support of the formula, along with the Urban League of Greater New Orleans, the Orleans Public Education Network, New Schools for New Orleans, VAYLA, the Louisiana Association for Public Charter Schools, STAND for Children, the New Orleans Parents' Guide to Public Schools, and Kids ReThink New Orleans Schools.

While filing a lawsuit is Lusher's right, we question the wisdom of suing to dispute a nearly universally supported formula that aims to provide additional funding to students that are disabled, learning English, or have other special needs.
To read our live coverage of Lusher's meeting, see below.
Della Hasselle reported from Audubon Charter School, and Robert Morris reported from Lusher on Saturday.