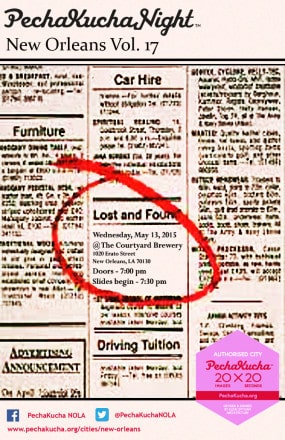 The 17th "PechaKucha" night in New Orleans — which features speakers who offer brief presentations on a variety of topics — focus on the theme of "Lost and Found" this week at Courtyard Brewery in the Lower Garden District. 
This event will be at 7:30 p.m. Wednesday, May 13, at the Courtyard Brewery, 1020 Erato St. Doors will open at 7 p.m.
There will be nine speakers, including people such as Chris Stuckey, Jennifer Rowe and Kiernan Dunn.
Taceaux Loceaux food truck will provide food until 9 p.m.