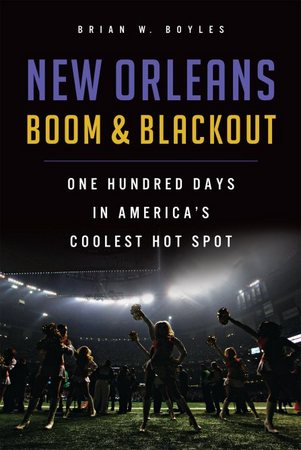 The authors of two new books from History Press — one chronicling events in New Orleans leading up to the infamous Super Bowl power outage in 2013, and the other a history of Hattiesburg, Miss. — will read from and discuss their works at Tulane University tonight (Wednesday, Feb. 4).
Readings of "New Orleans Boom and Blackout" and "Hattiesburg, Mississippi: A History of the Hub City" will begin at 7 p.m. at the Woldenberg Art Center at Tulane. For more information, see the news release from Tulane University below:
The New Orleans Center for the Gulf South at Tulane University (NOCGS) is proud to host a joint book launch and reception for two New Orleans-based authors, both of whom have published major new works of history in recent months. Brian Boyles, author of New Orleans Boom and Blackout: One Hundred Days in America's Coolest Hotspot (History Press, 2015) and Benjamin Morris, author of Hattiesburg, Mississippi: A History of the Hub City (History Press, 2014), will read from their works and hold a Q&A session with the public on Wednesday, February 4 at 7pm in Freeman Auditorium on Tulane's campus. Joel Dinerstein will moderate; a book signing and reception will follow the event.

Boyles, a Tulane graduate from 1999, is currently Vice President of Content at the Louisiana Endowment for the Humanities. His book chronicles the 100 days prior to New Orleans' hosting Super Bowl XLVII in 2013, when business leaders and tourism officials declared the rise of the "new New Orleans," a thriving city brimming with hope and energy. Yet the watershed moment culminated in darkness when the lights went out in the Superdome. In his thrilling portrait, Boyles unearths the conflicts, ambitions, and secret histories that defined the city in this pivotal time.

Morris, an award-winning poet, writer and member of the Mississippi Artist Roster, received a NOCGS research fellowship for his book, which is the first full-length narrative history of one of Mississippi's most beloved cities. Far from its origins as a center for lumber and rail, Hattiesburg is today a regional capital for education, healthcare, commerce, and the armed forces, sharing a deeply-intertwined history with New Orleans that dates back to Hattiesburg's founding 130 years ago.

"The Gulf South Center is proud to host these two young authors and celebrate the release of two books that investigate the history and culture of the region," Dinerstein said. "Both works are significant contributions to our understanding of the making of modern New Orleans, Mississippi, and the wider Gulf South. We look forward to two stimulating talks and then a wide-ranging discussion with community, faculty, and students."

When: Wednesday, February 4th, 2015
Where: Freeman Auditorium, 205 Woldenberg Art Center, Tulane University
Time: Readings start at 7:00 p.m. with Q&A, book signing, and reception to follow
Details: Event open to the public; copies will be available for purchase.
Web: https://www.facebook.com/events/782752888463529/

The New Orleans Center for the Gulf South at Tulane University (NOCGS) explores the region's intersections with Africa, Europe, Latin America and the Caribbean through research, community engagement and a new academic curriculum. Often ignored in larger US histories, New Orleans and the larger Gulf South figure uniquely within colonial, regional, national, and global narratives. The Center is home to a new major at Tulane, the Musical Cultures of the Gulf South, and is building a field of study focused on the region's music and culture. More information about both books are available at http://nolaboomandblackout.com/ and http://benjaminalanmorris.com/. For more information about the event or the Gulf South Center, please contact Joel Dinerstein at the phone number and email listed above, or visit http://tulane.edu/liberal-arts/NOCGS/.

[Disclosure: Benjamin Morris is the brother of Uptown Messenger publisher Robert Morris.]