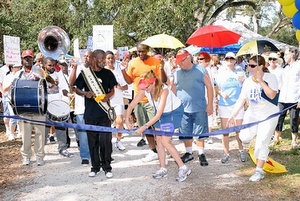 The New Birth Brass Band will lead participants in a second line benefiting the National Alliance on Mental Illness this Saturday (Oct. 11) in Audubon Park. The 5th Annual NAMIWalks will include a performance by Charmaine Neville prior to the second line and a community celebration in the park after the second line.
Registration for the second line will begin at 10 a.m. at Shelter #10 and Newman Bandstand in Audubon Park, and the second line will begin rain or shine at 11 a.m.
The 2014 NAMIWalks New Orleans will feature:
Honorary Chair Angela Hill
Musical guest Charmaine Neville
New Birth Brass Band
Dancing Man 504
Audubon Zoo passes for the first 1,000 participants
Audubon ZOOmobile
To learn more about the NAMIWalk and how you can participate as a sponsor or walker, visit www.namiwalks.org/neworleans or contact Walk Manager, Christiana Limniatis at 504-896-2345 or
walks@namineworleans.org.