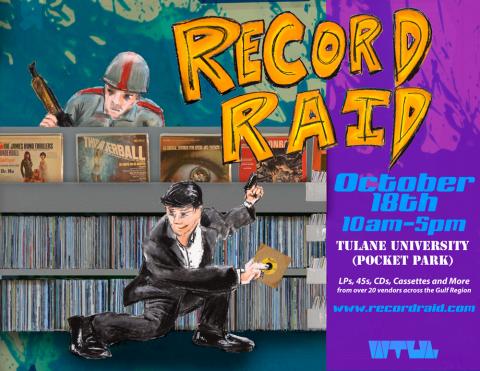 The Record Raid pop-up music store will make its way to Tulane University this Saturday (Oct. 18) where people can buy music on classic platforms from vinyls to cassettes and interact with several private record collectors.
The event will be held from 10 a.m. to 5 p.m. this Saturday at Tulane University's Pocket Park, near 15 McAlister Drive.
See the full press release below for more information:
Record Raid, the quarterly pop-up record store, hits Tulane University October 18th

Record lovers gather to dig through vinyl, CDs, and cassettes at a one-day event with vendors from all over the gulf coast and beyond.

On October 18th from 10am to 5pm, the Record Raid will bring over 20 vendors from across the gulf region to Tulane University's Pocket Park (approximately 15 McAlister Dr.), courtesy of WTUL 91.5 FM. Music lovers can expect to find LPs, 45s, CDs and cassettes across all musical styles and vintages, from overlooked dollar bin nuggets to high-valued rarities. The event is free and open to anybody with a set of ears.

This is the 5th anniversary of the first Record Raid, then called the WTUL Record Fair. Since its inception a lot has changed, and a lot has stayed the same. It was first held on Tulane campus on Broadway, across from The Boot, and since found its way to Siberia and Hi-Ho on St. Claude, as well as several shows at the Old Ironworks in the Bywater, across from Euclid Records. In fact, Euclid Records announced their plans to open a record store at the second WTUL Record Fair. Since then a number of record stores have sprung up after selling at Record Raids; Captain's Vinyl (Mid-City), Juan Le Ger (Algiers), Lagniappe Records (Baton Rouge), and Mobile Records (Mobile, AL) all had a table before a building.

But this isn't just a record store mash-up: numerous private collectors are also Record Raid mainstays, their records rarely seeing the light of day outside the event. Former WWOZ DJ Jivin' Gene is the go-to guy for the cherished 45s of the Cosimo Matassa era. Terry Pattison is a garage sale hound renowned for his impeccable selections of no-bull blues, next-level jazz and overlooked classics of the psychedelic era. Joey Buttons, member of the Buttons and electro label Disko Obscura, serves up an eclectic assortment of oddball electronic LPs. From the Red Stick is Ron Webb, who can walk down the street and smell records somebody is waiting to sell, but still manages to cut you a deal. Even if you don't intend to spend a dime, the people are worth it alone. And I'll be honest, nobody that says they won't spend a dime keeps their promise.

In the wake of the passing of recording engineer Cosimo Matassa and distributor/radio personality/record store owner Jim Russell, New Orleans' hazy memory of its rock & roll history seems more pronounced than ever. We rarely think of records as their true meaning: a documentation. The Record Raid was founded as a means for New Orleanians to have direct access to our musical legacy in full, unfiltered form. A stack of records can show a greater breadth of history than the focused version you will read in a book or an article, and the Record Raid was created in hopes that people can find this for themselves, and find people to talk about this with.