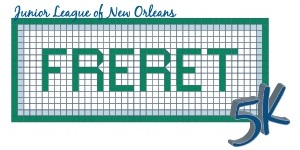 The Junior League of New Orleans will hold its second annual Freret 5K on Saturday morning, sending runners up the commercial corridor and through the university area, with an after party catered by some of Freret's great restaurants.
The race starts and ends in the Bloomin' Deals Thrift Store parking lot at 4645 Freret Street, just down from the Uptown Messenger offices at 4609 Freret. We'll be out, cheering on the runners and enjoying the Samuel Green Charter School band, so stop by and say hello on your way to the race.
Proceeds from the race will benefit the Junior League's many community-service projects, such as the new Diaper Bank to help provide diapers to new moms in need, as well as other programs benefiting children and seniors.
For details about the race, see the news release from the Junior League below:
Runners take your mark! The Junior League of New Orleans (JLNO) will host the 2nd Annual Freret 5K walk/run on Saturday, October 18, 2014.

The race will start and finish at the Bloomin' Deals Thrift Store at 4645 Freret Street; participants will travel down the vibrant Freret Street corridor, through the Tulane University campus and down Audubon Boulevard.

"The Freret 5K is a fun, family-friendly event that truly fosters a sense of community among all ages and enables the area's residents and business owners to share their neighborhood pride," says Katherine Kleinpeter Raymond, president of JLNO. "The Junior League has been a proud member of the Freret Street community since the opening of our Bloomin' Deals thrift store in 1960."

JLNO will be sponsoring 30 youth runners from the Freret neighborhood. In addition, the Samuel Green Charter School will be performing at the intersection of Valance and Freret Street as runners and walkers make their way to the finish line.

The after race party will have fun and games for the entire family as well as food and beverages provided by Wayfare, Freret Po-Boys, Midway, Dominoes, New Orleans Coffee Co. and NOLA Brewing.

The registration fee is $30 and includes event t-shirt.

For more information or to register online, please visit www.jlno.org/Freret5K.
Uptown Messenger is among the sponsors of the Freret 5K.