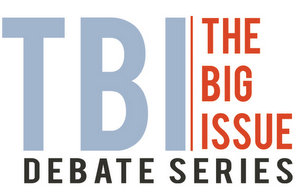 The entrepreneurship boom in New Orleans is a real phenomenon, and a crucial factor in the city's continued rebirth — but it must also be accompanied by more economic opportunities for the unsustainable number of jobless African-American men in the city, a panel of business leaders said Thursday evening.
"We can get there," said Rod Miller, CEO of the New Orleans Business Alliance. "We are a 'new' New Orleans, but we're not our best New Orleans."
Five panelists — the city's economic development chief, an industry leader, two entrepreneurial activists and a journalist — convened Thursday night at Tulane Hillel for a discussion called "New Orleans 2.0: Fact or Fiction?" as part of "The Big Issue" conversation series. All five agreed that there have been substantial changes in the city's business climate in the nearly nine years since Hurricane Katrina.
Gordon Russell, managing editor for investigations at The New Orleans Advocate, said he saw a new energy in the city after Hurricane Katrina, an intolerance for some of the outdated but long-held practices of the past. When he wrote about massive inequities in property-tax assessments around the city in 2004, the stories received little action. After Katrina, the same issue of consolidating the seven assessors became a political movement — similar to the levee board reforms, though those are now in jeopardy.
"In some ways, you could argue New Orleans was really in a death spiral before, or it was in a real decline spiral," Russell said. "It had all those great things we loved about it, but it was really bleak in some ways, in terms of its prospects. One of the challenges going forward is: How can we keep the city that we love. and prosper and not have this place turn into every other place?"
Gregory Rusovich, CEO of Transoceanic Trading and Development Company, rattled off a list of governmental reforms that he said the city has benefited from since the storms — the transformation of the New Orleans Recreation Department into a public-private partnership, the increased transparency in the city contracting processes, the creation of the New Orleans Business Alliance, the proposed civil-service reforms and even the way the city banded together to save the Hornets (now the Pelicans).
Those reforms extended out of the government sector into the business community, changing some older mindsets as well, Rusovich said.
"You start seeing this success breed success," Rusovich said. "It works back to coalition building."
Andrea Chen, founder of the Propeller social entrepreneurship incubator, said the city is seeing repeated successes from its socially-oriented startups, such as a company founded two years ago to put healthy foods in schools that now handles $7 million in lunch programs. That's just one of the many new businesses that have started and are now hiring, she said.
"When entrepreneurs are out there and they're actually making things happen, I call that reality," Chen says.
All of these new business startups and political reforms represent progress, said Miller of the New Orleans Business Alliance, but they overlook the elephant in the room: half of the black men in the city remain unemployed. Minorities are not well represented in the faces of the people starting the new companies, and as long as they struggle to access the new prosperity, the city's social problems will persist.
"How does New Orleans not only put a stake in the ground around entrepreneurship and high-growth companies, but also for under-represented minorities, that there's this opportunity to plug them in to mentors and access to capital?" Miller said.
Jeff Schwartz, executive director at Broad Community Connections, acknowledged that his efforts to revitalize the Broad Street corridor have been met with criticisms of gentrification. But prior to Katrina, change was coming anyway — though that change may have been continued decline.
What is crucial for development efforts like the new Whole Foods on Broad Street, Schwartz said, is that it requires hiring from both the immediate neighborhood and the entire city, and that its goods and services — i.e., its groceries — are both affordable for longtime residents and attractive to new transplants.
"The vision is to create a development for people who are already in place who might have had family in Treme for generations, but also making it a place that is worthwhile for folks who are moving here to come in and make a home," Schwartz said. "That balance is really what we were striving for."
Part of the racial disparity in employment is that many African-American men in the city have criminal records, and employers are less likely to give them a chance, said Joy Bruce, director of the CASA children's-advocacy nonprofit. Miller acknowledged that the city's incarceration rates are the highest in the country, and said that men in their 30s who were "knuckleheads" when they were younger should not be kept out of the workforce.
More efficient training programs are also needed to help get workers into the economy faster, Miller said.
"It's a very difficult city to live in if you're poor," Miller said. "When we bring high-wage jobs that are $100,000 a year jobs, that is the right thing to do. But a strong economy doesn't only have jobs at the high end. It has opportunities to move that person from $8 an hour to $10 an hour to $12 an hour."
Entrepreneurship is a crucial element of that, Miller said, because business ownership is one of the most reliable paths to building wealth in a community.
Ultimately, the changes in New Orleans following Hurricane Katrina have been dramatic, the panelists concluded, but they are only one part of the centuries-long history of a city that has always been unique.
"It's not really New Orleans 2-point-0. It's New Orleans 200-point-0," Schwartz said. "A city is always being reinvented. … There's something in that that means New Orleans is always going to be OK."
See above for live video and below for our live coverage.