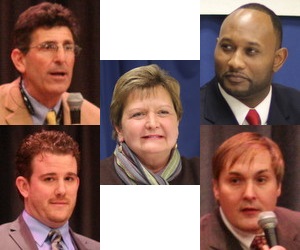 With only a few days left before Saturday's election, the five candidates running for the District A seat will meet twice in the Carrollton neighborhood this week — discussing housing issues on Tuesday and fielding questions from neighborhood leaders Wednesday.
Starting at 5:30 p.m. Tuesday (Jan. 28), the Greater New Orleans Fair Housing Action Center will conduct its District A "Pop-up City Council Voter Forum" at the Nix public library, 1401 S. Carrollton Ave.
Then at 6:30 p.m. Wednesday (Jan. 29), the District A candidates will meet again at St. Mary's Dominican High School, 7701 Walmsley Avenue, for a forum hosted by the Carrollton Area Network, a coalition of neighborhood organizers and activists.
Both events are open to the public.