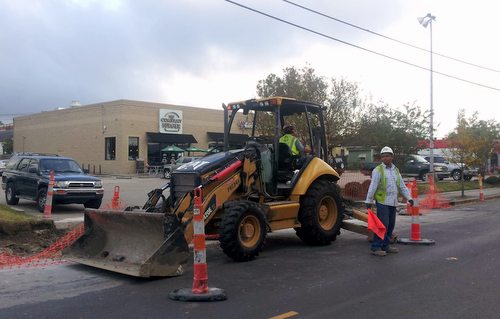 Freret Street will see the debut of two new events — a nighttime version of its long-running market and a new 5K charity race — as city officials released a revised timeline for the ongoing street-construction project.
The first-ever Freret "Night Market" will run from 5 to 9 p.m. Friday in the Publiq House parking lot, featuring an acoustic set by the Tanglers and the usual array of craft and food vendors, combining happy hour with an opportunity for holiday shopping.
On Saturday morning, runners will begin gathering at 7 a.m. at the Bloomin' Deals Thrift Shop for in-person registration for the Junior League of New Orleans' Freret 5K. The Half-Mile Fun Run will start at 8 a.m. and head to Valmont and back, and the 5K will start at 8:30 a.m. and head up Freret to Jefferson, turn up Jefferson to Story Street and back, then continue on Freret to Broadway Street before returning to Bloomin' Deals.
The regularly-scheduled Freret Market will then welcome runners and anyone else with an early start at 11 a.m., running until 5 p.m. in the usual location at Freret and Jena. (After this weekend, the Freret Market will return twice more before Christmas — on Saturday, Dec. 14, for its annual Freretstivus market, and on the following Friday, Dec. 20, for another night market at the Publiq House for last-minute shoppers.)
Streetscape modifications
Meanwhile, the city released a new schedule for the ongoing streetscape project along Freret Street that began Nov. 4, revising the original promise of 8-days-per-corner and extending the completion date by a week.
As of Wednesday, concrete and brick work is complete on the first two riverside blocks, from Jefferson to Soniat, though details such as the street-name tiles, garbage cans and bike racks remain to be installed.
The next two blocks, from Soniat to Upperline, were delayed by weather and the Thanksgiving holidays. Their completion date is now expected to be Dec. 9, a projected 20-day duration on each of those blocks.
Work has already begun on several blocks around Valence and Cadiz. The schedule still predicts workers will reach Napoleon Avenue prior to Christmas, then pause for the holidays before returning Jan. 7 up the lake-side blocks from Napoleon back to Jefferson. The project is now projected to conclude March 11.
One major difference in the project thus far and the previous attempt is a new focus on replacing driveways — such as those around Domino's, Company Burger and other businesses. The city is assessing the Americans with Disabilities Act-compliance of each driveway on Freret and work on those that need adjustment throughout the project, said Tyler Gamble, a spokesman for the mayor's office.