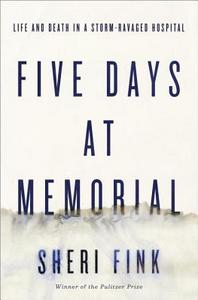 Sheri Fink, whose book "Five Days at Memorial" recounts the efforts to save lives at Memorial Medical Center in New Orleans immediately after Hurricane Katrina, will speak Wednesday evening as part of this week's ongoing Jewish Book Festival.
For details, see the news release from the New Orleans Jewish Community Center:
The New Orleans Jewish Community Center will present its 14th Annual Jewish Book Festival Monday, November 18 – Sunday, November 24, 2012. Outstanding authors highlight this year's festival, which  culminates with an incredible musical concert, by the Maccabeats, an a cappella group based out of Yeshiva University, known for their catchy musical arrangements and popular YouTube videos.

This year's Featured Author Event will be on Wednesday, November 20 at 7:00 PM with Sheri Fink, author of Five Days at Memorial: Life and Death in a Storm Ravaged Hospital.  In Five Days at Memorial: Life and Death in a Storm Ravaged Hospital, physician and Pulitzer Prize winning reporter Sheri Fink reconstructs five days at Memorial Medical Center, in New Orleans, following Hurricane Katrina, and draws the reader into the lives of the doctors and nurses who struggled to preserve life amidst chaos.  Sheri Fink's reporting has won the Pulitzer Prize, the National Magazine Award, and the Overseas Press Club Lowell Thomas Award, among other journalism prizes.  Tickets for this event are $5 and can be purchased online or at the JCC Reception Desks.

In addition to these author events, the Jewish Book Festival features a Bookstore offering a great selection of children and young adult books, JCC Book Club selections, and gifts, all provided by Octavia Books, which is generously donating twenty percent of sales to the JCC in support of cultural programming.  The Bookstore will be open Monday – Friday from 9:00 – 11:00 AM and 4:00 – 6:00 PM (Not open on Friday afternoon), as well as during both author events.

The Jewish Book Festival is held at the New Orleans JCC Uptown Campus at 5342 St. Charles, New Orleans, LA 70115. To RSVP for an event and to preorder books, please visit the JCC website at www.nojcc.org.