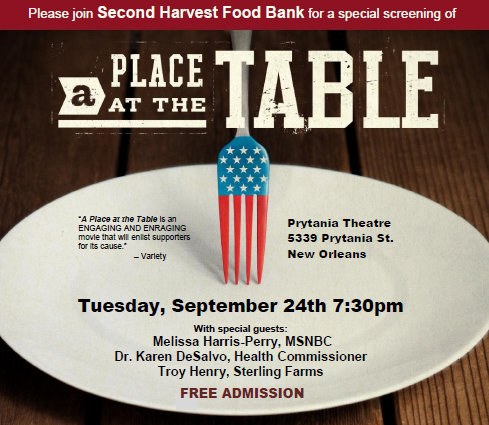 Second Harvest Food Bank, which helps feed a quarter of a million South Louisiana residents each year, is hosting a free screening Tuesday evening at the Prytania Theatre of "A Place at the Table," a documentary about the struggles of Americans on food stamps. MSNBC host Melissa Harris-Perry, New Orleans Health Commissioner Karen DeSalvo and Troy Henry of Sterling Farms will participate in a panel discussion after the event.
For details, see the news release from Second Harvest below:
Second Harvest Food Bank Offers FREE Screening of 'A Place at the Table'

WHO:                   Second Harvest Food Bank of Greater New Orleans and Acadiana in association with Participant Media and Active Voice are hosting a FREE screening of 'A Place at the Table'

WHAT:                 Second Harvest Food Bank would like to invite you to a FREE screening of this important documentary to talk about Hunger in America. Almost 50 million Americans struggle with hunger every day. Many families rely on Supplemental Nutrition Assistance Program (SNAP, formerly known as Food Stamps) to help stretch their grocery budget, however preparing three meals a day for a family on approximately $6 seems like an impossible task.

This film documents the struggle families on SNAP face. After the film, Second Harvest president/CEO, Natalie Jayroe, will host a panel discussion about the issues related to hunger and food insecurity in New Orleans with special guests Melissa Harris-Perry of MSNBC, Dr. Karen DeSalvo – New Orleans Health Commissioner and Troy Henry of Sterling Farms.

WHEN:                 Tuesday, September 24, 2013

WHERE:               Prytania Theatre
5339 Prytania Street
7:30pm

Complimentary refreshments will be served from the Second Harvest Community Kitchen.

WHY:                    Louisiana has the second-highest poverty rate in the nation, at 21.6%. One in six people in Louisiana struggles with hunger, and nearly one in five Louisiana residents depends on SNAP to buy groceries, among the highest rates in a nation where food stamp usage is up across the board.

This fall, Congress will continue the debate on legislation that would make $40 BILLION in cuts to food stamp benefits, literally taking food off the table for millions of children, seniors, and hardworking Americans. These cuts will also affect children enrolled in the free and reduced-cost breakfast and lunch program at schools across the United States.

Second Harvest distributes over 22 million meals to individuals and families each year across the 23-parish south Louisiana service area which covers Lake Charles to the Louisiana/Mississippi state line.