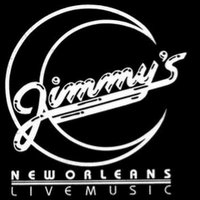 Maybe it was just a pot of jambalaya, or maybe the calm before a storm, but by all accounts Wednesday night was a positive step on the road back for Jimmy's Music Club — about 30 supporters, neighbors and city officials all sharing a bite to eat and some casual conversation before heading into a week that could bring a formal operating agreement and approval from the city to reopen.
Jimmy Anselmo and the club's new operators threw the club's doors open Wednesday evening for an open house that was well attended by many of those involved in the complicated set of decisions that will determine with the venue can reopen. Deacon John Moore, president of the New Orleans Musicians' Union and a stalwart Jimmy's supporter was there. So, too, were members of the Carrollton-Riverbend Neighborhood Association and the nearby Maple Area Residents Inc. And two staff members with Councilwoman Susan Guidry's office used the evening as an opportunity for an on-site visit with Anselmo.
The club owners and the neighbors are meeting Sunday in hopes of working out a good-neighbor agreement, and the formal request for permission to sell alcohol at the club is scheduled to go before the City Council the following Thursday, July 25. Anselmo met privately again with Guidry's staff on Tuesday, and all sides are now waiting on the outcome of Sunday's negotiations.
"Both the mayor's office and the councilwoman have said a good-neighbor agreement is required in order for this to go forward, so I'd say it has bearing," said Kelly Butler, who handles land-use matters in Guidry's office.
Though a number of issues remain unresolved — regarding noise control, security and particularly the age limit of the club's patrons — neighbors seem optimistic, especially as the meeting will be run by professional mediators from Community Mediation Services. The club is seeking to allow customers aged 18 and up, but other venues, such as Oak wine bar, have voluntarily agreed to a 21-and-up age limit, noted Carrollton-Riverbend board member Betty DiMarco. The main concern, she said, is preventing a repeat of the unruly out-of-doors conduct that surrounded Anselmo's previous tenant, The Frat House.
"The Frat House was such a bad neighbor that close neighbors are very leery of what's going to happen," DiMarco said. "And younger people were the problem with the Frat House. But, I can understand that they [the Jimmy's operators] don't want to limit themselves as a bar."
The city planning staff is recommending approval of the Jimmy's application, with a number of conditions attached: Soundproofing should ensure that no music is audible outside, performances must end by 2 a.m., no loitering or drinking should be allowed in front of the bar and go-cups must have a Jimmy's logo on them (to track litter). An age limit is not mentioned in the staff report, though the City Council can add additional requirements.
Michael Tifft, attorney for Jimmy's, also expressed a cautious optimism that the club could be nearing the end of its legal journey.
"If we can get this done on Sunday, hopefully we'll be all done on Thursday the 25th," Tifft said, referring to the City Council meeting.
DiMarco noted that she has lived in the neighborhood since before Jimmy's opened in the 1970s, and attended numerous shows there during its heydey. As she rattled off a number of other clubs around the neighborhood throughout the year, she said she felt like an agreement will be reached Sunday.
"It's always been a neighborhood with bars," DiMarco said.