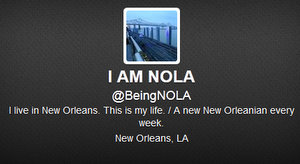 This week, @Sweden is talking on Twitter about an industrial design conference and the proper playlist for an afternoon run. Last week it was scenes from a musician's 900-kilometer walking tour around the country, and before that it was the minutiae of international hockey drama — each week, another unique view of life narrated by another Swede.
"I thought it was really interesting that they were taking people from one place that had different experiences," said Champ Superstar, one of the better-known Twitter personalities in New Orleans, and a longtime follower of the @Sweden account. "I've been thinking for a long time, like for a year, that this would be cool to do for New Orleans. I kind of waited for someone else to start it and even mentioned it on Twitter from time to time, and finally I just thought, 'Today's the day.'"
This Sunday, Champ (who declines to reveal her real name, saying she intentionally keeps her freewheeling Internet persona separate from the conservative industry she works in) will launch @BeingNOLA, a new Twitter account modeled after @Sweden for New Orleans. People outside the city get their idea about life here from either sensationalistic national news accounts, the HBO show Treme, or glitzy tourism campaigns, Champ said; wouldn't it be preferable to let them hear about it from actual New Orleanians?
Besides, she noted, New Orleans seems to be "better" at Twitter than the other cities she's lived or worked in.
"Nobody uses Twitter the way we do. It's very communal," Champ said, noting the New Orleans Twitter community's small-town feel — she has actually met very few of the city's Twitter personalities, but said it's easy to feel as though she knows them. "A lot of other people [elsewhere] use it for promotion. We use it a lot for discussion."
Or, it could just be that New Orleans has better conversations in general than other places — which Champ said is another good reason for the @BeingNOLA account.
"There are a ton of interesting people here," Champ said. "Either they're interesting because they're from here, or they're interesting because they were attracted to New Orleans."
Unlike @Sweden, which is run by the country's government, @BeingNOLA will be run by Champ (she's followed @MayorLandrieu and a few other official-type accounts, but said she hasn't gotten any response back). She hasn't set any formal criteria for picking the weekly Tweeter, but already has an entire summer's worth of applicants lined up.
The first volunteer will be Chris Boyd, founder of Apptitude, a recent transplant to New Orleans whose sincere fascination for the city Champ described as infectious. But from there, she said she's excited that the roster for @BeingNOLA is already beginning to branch out.
"I was really afraid it would just be my friends, but a few people have already volunteered that I've never heard of," Champ said. "I want to get outside the people I follow on Twitter. I want to get people I've never heard of."
For more information or to sign up, see the @BeingNOLA page at Champ's blog.