The as-yet-unnamed event venue by Joel Dondis — founder of Sucre, La Petite Grocery and Grand Isle — would convert a former marketplace at 1911 Magazine into a sort of banquet hall for wedding parties and corporate dinners. Dondis operates a catering business called "Joel," and the venue on Magazine would serve to complement it, he told members of the Coliseum Square Association on Monday evening.
Dondis spoke with enthusiasm about the building, calling it "perfect" in historical photographs and promising to restore it to its original splendor. Original doors and windows will be replaced, the exterior will be landscaped, and the chain-link fence will be replaced with a stucco wall with wood and iron gates. The interior will also get a full renovation, Dondis said.
"We don't want to change it in any way," Dondis said. "We just want to make it beautiful again."
Anticipating concerns from the neighborhood about the impact of the business, Dondis said he has already secured valet parking a block away and that both it and the venue will have their own security guards. There may be music inside the building, but only without amplification and never after 9 p.m., he said.
"We won't have a rave or a big dance kind of party," Dondis said. "That's not in our profile."
Because the space is larger than 5,000 square feet, Dondis will need a conditional-use permit from the City Council, and said he will be applying for a liquor license at a later date, but will sign a good-neighbor agreement with the association. The association voted unanimously to support the project.
'Third wave' coffee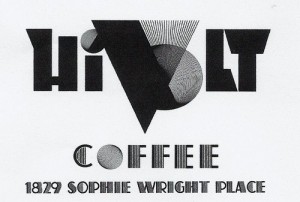 A block away at 1829 Sophie Wright Place, Benji Lee of The Saint bar is planning a high-end coffee shop called HiVOLT in a long-abandoned storefront. The shop will specialize in "third wave" coffee, a movement that seeks to treat coffee with the same artisanal approach as wine, purchasing coffee beans directly from growers, for example.

"I think there's a big void for some awesome coffee," Lee told the association. Third-wave coffee, he said, is "all over the country except for this town."

In addition to coffee and espresso drinks, there will also be a limited menu of seasonal menu of homemade items by Lee's wife. A sample menu they handed out included house-made Greek yogurt, a poached egg on toast, a mushroom and scallion frittata, an open-faced tomato sandwich and a spinach-chickpea spread, among other items.

Interior renovations are beginning this week, Lee told the association, though the only changes on the exterior will be more lighting. They plan for some seating on the sidewalk, which will also require city approval, and the association voted unanimously in favor of that as well. Optimally, Lee would like to be open by Aug. 1, he said.

"I'm just really excited to see all of this going forward," association president Jim McAlister said.

Boutique hotel


Finally, Glenn Stewart, a retired physician from Lafayette who is now a real-estate developer, told the association about his hope of buying the St. Anna's home in the 1800 block of Prytania and converting it into a boutique hotel with around 40 rooms. Stewart has already put in a bid on the building, he said, and he is waiting to see if it is accepted.

Stewart plans a high-end hotel unaffiliated with any chains, targeting European travelers who have been to New Orleans several times and are trying to visit areas outside downtown, he said. The building would need no additions, he said, as it already has room inside for a small restaurant and ballroom, as well as some outbuildings.

Stewart said he has always wanted to develop a hotel, but always felt the market in New Orleans was too tight for him to have chance.

"When this came up, it was almost too good to be true," Stewart said.

If his bid is accepted, Stewart said he anticipates about three months to close on the property and about a year for renovations. He will need a rezoning for the hotel to be allowed, he said, but wanted to give the neighborhood the first chance to hear about the project. If a hotel was not feasible there, he said, the only other use he could imagine for the property would be apartments.

* * *

Councilwoman LaToya Cantrell also visited the meeting to give updates on a variety of neighborhood issues. To read our live coverage of the meeting, see below.

A new event venue from the founder of La Petite Grocery and a new "third wave" coffee shop from the owners of the Saint bar are both planned within a block of each other off the Lower Garden District section of Magazine Street.