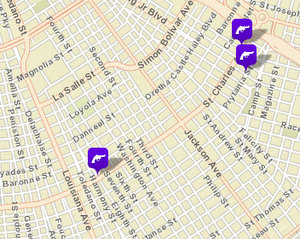 Three guns were seized Friday night along the parade route during the Oshun and Cleopatra parades at locations that were trouble spots for gunplay last year as well, according to police.
The gun cases were reported at St. Charles Avenue and 8th Street around 6:30 p.m., Melpomene and Prytania around 7:30 p.m., and Erato and St. Charles around 9:45 p.m., according to online crime maps.
Arrests were made in the cases, said NOPD Officer Garry Flot, a department spokesman, but he said he could not release details on the individual incidents because their reports are still under review.
In 2012, two people were injured in a shooting at Erato and St. Charles during the Chaos parade on Muses Thursday, and police seized four guns within three hours on Fat Tuesday at Eighth and St. Charles.