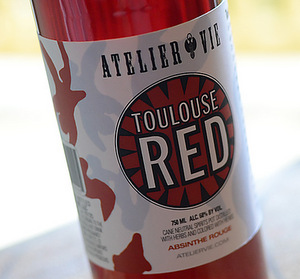 I had the chance this week to go over to the upstart Atelier Vie operation in the Art Egg building under the Broad Street bridge, a jaunt that served as yet another reminder of the cadre of creative and forward-looking folks that seems to be growing rapidly around here these days.
Jedd Haas and his three-man crew distill absinthe (yes – the Real Wormwood Thing), and some vodka while also working on some other creations like rice whiskey. They haven't been in full operation for a month yet, but the build-out of the space got started in June and licensing and permitting took until late November. The space is still as much construction site as distillery, but they're doing some amazing things. Little by little, you'll be seeing their handiwork in local bars, and they open Saturday and Sunday mornings so you can pick up a bottle and get a first-hand look.
The trip to the distillery reminded me I hadn't yet gotten a close-up view of the new taproom at NOLA Brewing on Tchoup. I went over there to marvel and talk to head brewer Peter Caddoo for a little bit while getting some Christmas present ideas in their merchandise room. Now that the Friday tours have resumed, you can go take a closer look yourself.
Being something of a serial entrepreneur (radio, specialty food, restaurant), I deeply understand the mindset of those who see an opportunity and try to hammer and bend it into reality. It's different from those who, say, get a law or medical degree and hang out their own shingle. I'm talking about those who have an idea for a different or new kind of product in their area and then try to push, pull, finagle, coax and kick the bastid to life and drag it along until it can survive on its own. For some, the process never ends. But it's the Being There that keeps them going.
This publication is an example. The Uptown Messenger was born because someone saw a need and acted on it. There are many such operations in New Orleans, which has become something of a Mecca for start-ups. We now have more restaurants than we did before Katrina.
Those who take on these challenges are a different breed and, really, we are not driven by the idea of making money. Of course, everyone wants to make a decent living and we all have bills to pay. But the two things that drive us are: 1) we feel we're somehow making a difference and 2) most days, at least, it's fun as all hell. We chafe against restraint and we gleefully kick down walls just because they're there. It seems to be genetic in our nature, to the amazement of those who seek a more stable, structured environment. Sure, we could fail. But better that than playing Woulda, Coulda, Shoulda.
For those who decide to make that jump, the biggest hurdle is not the state or federal governments. It's our own city. There seems to be a blindness on Perdido St. when it comes to establishing certain types of businesses. Granted, things are better now than, say, five years ago.  But in the two businesses I've set up in New Orleans, the foot-dragging, namby-pamby, picayunish attitude has come from City Hall. Hopefully, things will continue to improve. But I will point them out loudly when and if I face them again.
I'd urge you to take some time and seek out the products of our local entrepreneurs, particularly this time of year. The Fleurty Girls. The NOLA Brewing folks. Try the new Toulouse Red absinthe. It's an investment in our city and the products are world-competitive.
I'm not saying you'll be meeting the next Bill Gates. But it's always good to know someone "in the business," no matter what business it is.
Craig Giesecke has been a broadcaster and journalist for over 30 years, including nearly two decades at the AP and UPI covering news, sports, politics, food and travel. He has been the owner of J'anita's for five years, serving well-reviewed upscale bar food and other dishes. Comments are encouraged and welcomed.