A 21-year-old man was struck in the head/chest area and left in critical condition, according to initial police reports, while a 31-year-old man was shot in the left leg. They were "standing on the corner when a dark blue vehicle approached and started shooting," the report reads.
Police marked a number of shell casings in the intersection, and witnesses said one victim had appeared to be just up the block on Annunciation, and the other was partway down Washington. Residents said that prior to the shooting around 8:30 p.m., a large group of people was gathered outside a convenience store on the corner.
"Everyone was out being loud and partying, and all of sudden 'pop-pop,' eight times," said one man who lives near the intersection. "It got really quiet after that. Everyone vanished."
Another resident of the block said as many as a dozen shots may have been fired. "It sounded like it was right on the corner," he said. One victim, who appeared to have been shot in the leg, was sitting propped against a car on Annunciation when police arrived, he said.
Shootings seem to happen less frequently in the Irish Channel than in years past, residents said, though they wryly noted that one of the city's long non-functioning crime cameras sits right over the intersection. In the last two weeks or so, however, the intersection seems to have had an influx of unfamiliar faces, the residents said.
Central City violence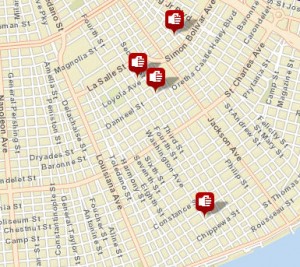 Meanwhile, two other shootings and one stabbing incident were reported overnight in Central City.

In the first case, a 21-year-old man and a 22-year-old woman were standing in the 2300 block of St. Andrew Street when they were fired upon by a passing vehicle, according to police reports. The man was struck in the right thigh, and the woman was hit in the left buttock, the report states.

The second case was reported at 8:26 p.m. in the 2000 block of Second Street, where a man was shot in the hand. Further details were unavailable.

Finally, another aggravated battery case was reported in the 2200 block of Third Street around 1:30 a.m. Tuesday. Arlesha Davis, 18, was arrested on charges of cutting a 17-year-old male with a piece of broken glass.

[Note: This article was first published at 8:47 p.m. Monday and updated several times through the evening, with a final update Tuesday morning when the initial police reports were made available.]

Two people were shot Monday evening near the intersection of Washington and Annunciation in the Irish Channel, police said.