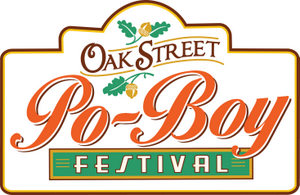 The Oak Street Po-Boy Festival returns this weekend for its sixth year, inviting the city's best restaurants to show their appreciation for the New Orleans' signature sandwich — often by reinventing it completely. In addition to the dozens of vendors, live music, history discussions and children's areas, the festival has again modified its layout on the street to better accommodate the thousands of po-boy enthusiasts.
For details, see the following information from the festival website:
The 2012 Oak Street Po-Boy Festival, presented by Abita Brewery on November 18, 2012 will feature over 30 food vendors serving the best-tasting po-boys in New Orleans, two stages with live music, panel discussions covering the history of the po-boy and the Oak Street corridor, and an expanded Kid's World held on the beautiful campus of St. Andrew's Episcopal School located at 8012 Oak Street @ Carrollton.

Admission to the Oak Street Po-Boy Festival is free. VIP wristbands will be available which will include parking within walking distance of the festival, access to a VIP/Hospitality area, an open bar featuring Abita beer and choice spirits, and a selection of food.

The Oak Street Po-Boy Festival (formerly the New Orleans Po-Boy Preservation Festival) was named the Best Food Festival by Gambit readers for the third year in a row! Thank you to everyone who voted for us, and we can't wait to see you at this year's Festival!

What's new for 2012:
Festival T-Shirts now available at the following Oak Street merchants:

Abeille NOLA:  8438 Oak Street
Haase's: 8119 Oak Street
Blue Cypress Books: 8126 Oak Street
One 2 One Salon: 8216 Oak Street
Body Bistro: 8708 Oak Street
Tiny Buffalo:  8726 Oak Street

Please Note Our Vegetarian Offerings!
(quite a few food vendors also have vegetarian sides!)

Blue Frog Chocolates: chocolate and fruit drinks
Crepes a la Carte: fruit and chocolate crepes
Mahony's: Fried Okra and Remoulade Po-boy
Mondo: Greek Eggplant Salad Po-boy
The Ridge Bistro: Smoked Portabello Po-boy

Merchandise Will Be Sold in Oak Street Businesses!Stay tuned for a complete listing of Oak Street merchants selling official festival t-shirts and posters. Look for the "Merch Sold Here" signs at the festival!

More room to walk around | We've moved the music stages onto the side streets this year. Oak Street will be wide open from Carrollton all the way to Eagle. Plan on stretching out and exploring our vast 8-block expanse of food booths, beverage centers, and shops!

Improved VIP area | We've streamlined down to one VIP area that includes parking within walking distance of the festival, covered seating, and an open bar featuring Abita Beer, plus a selection of spirits and non-alcoholic drinks, and light snacks. There will be two raffles (winner need not be present) and some sweet lagniappes (give-aways) exclusive to the VIP area. Treat yourself, support the festival, and be a VIP for the day!

VIP Buy VIP wristbands online now

Additional bike corral | A new bike corral has been added to last year's bringing the total up to two: Whitney Bank (Carrollton and Plum St.) and Fidelity (Carrollton and Oak St.)

Cozy dining space | Parkway Bakery is the official sponsor of the eating/beverage area located in the Castellon Pharmacy parking lot on Dante at Oak St. Deluxe restrooms, high-top tables. Abita Beer. Abita Root Beer and other non-alcoholic beverages. Step off Oak Street, relax, enjoy your food! Catch the Saints game on (4) 50″ plasma tv's set in a mobile sports bar.