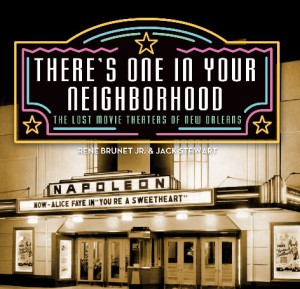 Rene Brunet and Jack Stewart will release their book "There's One In Your Neighborhood: The Lost Movie Theaters of New Orleans" at a party showcasing old film reels on the Prytania Theatre's screen (Nov. 1, 5 p.m. to 10:30 p.m.).
For more information see the following description from the event's Facebook page:
Book Release and New Orleans Nostalgia Movie Night

THERE'S ONE IN YOUR NEIGHBORHOOD—
THE LOST MOVIE THEATERS OF NEW ORLEANS
by Rene Brunet & Jack Stewart

Autographed copies available for purchase at the Prytania

Prytania Theater owner Rene Brunet, at age 91, has teamed up with urbanologist Jack Stewart and New Orleans book publisher Arthur Hardy to produce a 160-page coffee table book that chronicles more than 100 lost movie theaters in metro New Orleans.

The evening will include book signings, Q&A with the authors, 1940s newsreels, New Orleans travelogues, 1950s cartoons, and a special showing of The Wacky World of Dr. Morgus (1962).