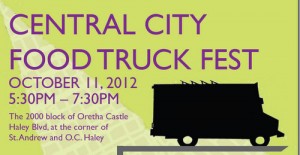 As food truck vendors seek reform to laws that restrict where they can set up and how long they can stay there, they will seek to bring some attention to their cause and to their offerings tonight at the Central City Food Truck Festival on O.C. Haley Boulevard.
City Councilwoman Stacy Head, one of the event's sponsors, speaks to our partners at WWL-TV about the event:
For more details, see the following news release:
City Councilmember-at-Large Stacy Head and Good Work Network are hosting the Central City Food Truck Festival this evening, Thursday, October 11, 2012 at 5:30 p.m. The event, which will showcase several local food truck favorites and live music, celebrates the entrepreneurial spirit of food truck vendors as well as the commercial and residential growth on and around Oretha Castle Haley Boulevard. Councilmember Head and Good Work Network support small business development in New Orleans and view mobile food vendors as great additions to both the economy and culture of New Orleans. Because current mobile vending laws, which have not been wholly modified since their inception in 1956, are outdated, Councilmember Head is working on their reform. Tonight's event is a celebration of the future of food trucks in New Orleans.

"My goal is to engage in discussion with mobile food vendors, the restaurant industry, city planners, and others that will be affected by a change in mobile vending laws, in addition to researching the reforms implemented in other cities. We want to create a set of laws that bolsters mobile vendors and the restaurant industry so that New Orleans' cuisine continues to thrive," said Councilmember Head.

Phyllis Cassidy, Executive Director of Good Work Network said, "We're really excited for the Central City Food Truck Fest. We are proud to help showcase the talented small business owners in our community who are helping bring commerce back to the neighborhood."

Event Details:
Central City Food Truck Fest
October 11, 2012
5:30pm-7:30pm
2000 block Oretha Castle Haley Boulevard (corner of St. Andrew Street)

Vendors:

Foodie Call; Mama & Me Soul Food; Rue Chow; NOLA Girl Food Truck and Catering; Empanada Intifada; La Cocinita; Frencheeze; Bittles with the Vittles; Ramisha's Snoball Stand; Brigade Coffee Truck.