The victim was getting into her car in the 2300 block of Burdette around 10:30 p.m. when a stranger on a bicycle rode up and forced her car door open, implying that he had a gun, according to initial reports. She tried to close the door, but he hit her in the face and forced her out of the vehicle, a tan 2000 Lincoln Navigator, the reports state. He then got in the Navigator and drove off on South Claiborne toward Broadway Street, with her dog still inside the SUV, according to the reports.
"I need to get him back," the victim posted on the Facebook page of our reporting partners at WWL-TV. "He's a old sick dog. 11 year old Chichua Jack Russell Mix about 8 lbs. On Burdette and Clairborne uptown. He's wearing a purple and gold harness with a tag but the phone number is incorrect because my phone was also stolen."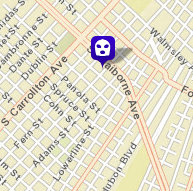 Anyone with information is urged to call the NOPD Second District at 658-6020.

[Note: This article was first posted at 7:59 a.m. Wednesday and updated at 9:21 a.m. with the information from the WWL Facebook page.]

A carjacker just off South Claiborne in the central Carrollton area hit a victim who was trying to get away from him and then took her SUV with her dog still inside Tuesday night, police said.