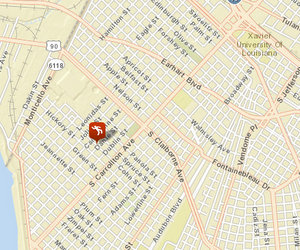 One man was killed and another injured Monday evening in a shooting that stemmed from an argument inside a west Carrollton home, and two other people showed up at the hospital from bullet wounds apparently sustained in another shooting near South Carrollton and Washington avenues, police said.
In the first case, an argument broke out inside a home in the 8300 block of Cohn Street shortly before 6 p.m., then spilled into the street where a gunman shot two 27-year-old men, killing one (later identified as Terrell Jackson) and striking the other in the arm, police said in a news release. Police are now questioning the primary resident of the home about the incident, the release states.
About three hours later, two men showed up at the hospital, one with a gunshot wound to the shoulder blade and the other with a graze wound to the neck, police told our partners at WWL-TV. While the location of the incident remains under investigation, they are believed to have been shot near Carrollton and Washington avenues, police said.
Anyone with information about either case is urged to call Crimestoppers at 822-1111.