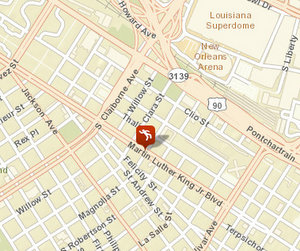 A 25-year-old man was killed and two teenagers were wounded Wednesday evening in a shooting near a corner store at the intersection of Martin Luther King Boulevard and Magnolia Street, authorities said.
Around 8 p.m., someone in a black vehicle drove up Magnolia, got out and began shooting at the three young men standing by the store, littering the ground with 40 to 50 shell casings, according to NOPD officials. All three were hit and paramedics rushed them to surgery in critical condition, and one later died, police said.
An open house for KIPP Central City Primary School had just concluded within close earshot of the shooting, according to a report by Leslie Williams of the Times-Picayune. The store is about a block from the NOPD Sixth District station, and about six blocks from the Mercedez-Benz Superdome.
Anyone with information is asked to call CrimeStoppers at 822-111 to leave an anonymous tip that could be eligible for a cash reward.
[Update, Sept. 25] Lamar Walker, 25, was identified as the man who died the night of the shooting, and a second victim, 25-year-old Garold Lewis, died of his injuries Sept. 20, according to Naomi Martin of The Times-Picayune.