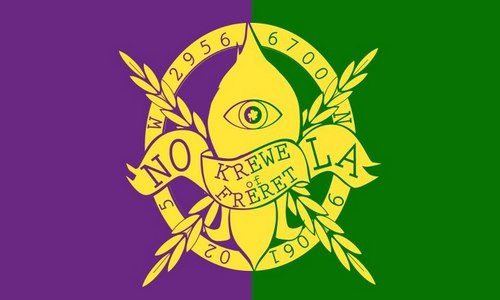 Article by Craig Giesecke, for UptownMessenger.com
Organizers of the new Krewe of Freret are pushing ahead with plans to roll their first parade during the coming Carnival season, remaining optimistic even though a recently-approved 2013 parade calendar does not yet include them.
Earlier this month, the City Council approved a resolution endorsing a parade schedule for 2013 that moves the first Carnival weekend a week back to accomodate Superbowl, but the Krewe of Freret isn't on the parade list. The new krewe's co-captain, Bobby Hjartsberg, says his group will continue to work with councilmembers in hope of getting a little help.
"We'd gotten good verbal support," Hjartsberg said. "We intend to begin another push."
The original goal had been to form on Freret, then roll down Napoleon Avenue to join the traditional St. Charles route, in hopes of generating more traffic and publicity for businesses in the Freret Street corridor. Hjartsberg says his group now just wants to be part of parade and float assembly at the foot of Napoleon, along with other krewes.
"We want to do this without any additional cost to the city," he said. "We've been doing a lot of talking to the NOPD, and officers would already be on the route anyway."
The krewe has been wanting to roll with about 300 riders on Saturday, Jan. 27, in the afternoon, trailing Choctaw and Pontchartrain in the afternoon, but before Sparta and Pygmalion that evening. The first Uptown parades of the season, Oshun and Cleopatra (relocating from the Westbank this year) are scheduled the previous night.
But the biggest challenge is obtaining a City Council permit. The krewe is assessing what needs to be done to get another look from council members. Not only must the route be approved and other rules met, but the krewe also has to guarantee at least 14 floats.
"Mr. (Barry) Kern has been a big help to us," Hjartsberg said, referring to the chief of the Mardi Gras World empire and float supplier. "We'll try to roll as many floats as we can."
Riders would be male and female, largely young professionals and students from nearby Tulane and Loyola Universities. Hjartsberg said most have never before ridden in a Carnival parade, so they want to bring something new to the experience.
"For instance, we've got a lot of young engineers," he said. "While we'll be fairly traditional, we're also looking at things like live streaming from the floats and other perspectives, [to] use technology to let people see this from all over the world as it's going on."
The Krewe of Freret formed last year, but cut off its membership drive after about 30 days because of heavy response, Hjartsberg said.
"We can't promise a huge economic impact on the city, but we feel this is a way to give back," he said. "Lots of times, our young law students, medical students and engineers leave town after they graduate. Most of us grew up on Freret between 18 and 22, so we hope this will give them another reason to stay."
Full Uptown parade schedule approved by the city Sept. 6:
Friday, January 25, 2013
6:00 p.m. OSHUN Uptown
6:30 p.m. CLEOPATRA Uptown
Saturday, January 26, 2013
1:00 p.m. PONTCHARTRAIN Uptown/Napoleon
2:00 p.m. CHOCTAW Uptown
6:00 p.m. SPARTA Uptown/Napoleon
6:45 p.m. PYGMALION Uptown/Napoleon
Sunday, January 27, 2013
12:00 noon CARROLLTON Uptown/Napoleon
1:15 p.m. KING ARTHUR Uptown/Napoleon
[one-week break for Super Bowl]
Wednesday, February 6, 2013
6:30 p.m. DRUIDS Uptown/Jefferson
7:00 p.m. NYX Uptown/Jefferson
Thursday, February 7, 2013
5:45 p.m. BABYLON Uptown/Napoleon
6:30 p.m. CHAOS Uptown/Napoleon
6:30 p.m. MUSES Uptown/Jefferson
Friday, February 8, 2013
6:00 p.m. HERMES Uptown/Napoleon
6:30 p.m. D'ETAT Uptown/Jefferson
7:00 p.m. MORPHEUS Uptown/Jefferson
Saturday, February 9, 2013
11:00 a.m. IRIS Uptown/Napoleon
12:00 noon TUCKS Uptown/Napoleon
Sunday, February 10, 2013
11:00 a.m. OKEANOS Uptown/Jefferson
11:45 a.m. MID-CITY Uptown/Jefferson
12 noon. THOTH Uptown/Henry Clay
5:15 p.m. BACCHUS Uptown/Napoleon
Monday, February 11, 2013
5:15 p.m. PROTEUS Uptown/Napoleon
6:00 p.m. ORPHEUS Uptown/Napoleon
Tuesday, February 12, 2013
6:45 a.m. JEFF CITY BUZZ Uptown walking
7:00 a.m. LYONS CLUB Uptown walking
7:00 a.m. CORNER CARNIVAL Uptown walking
7:45 a.m. PETE FOUNTAIN Uptown walking
7:45 a.m. MONDO KAYO Uptown walking
8:00 a.m. ZULU Uptown/Jackson
10:00 a.m. REX Uptown/Claiborne
After Rex ELKS Uptown/Claiborne trucks
After Elks CRESCENT CITY Uptown/Claiborne trucks