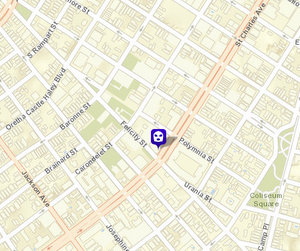 The staff of a popular St. Charles Avenue restaurant was robbed at gunpoint early Saturday morning, and three people were injured in two separate shootings in Gert Town and Hollygrove over the weekend, according to police reports.
At Houston's restaurant in the 1700 block of St. Charles Avenue, a manager was in the office at 6:38 a.m. Saturday when a man came in through an unsecured rear door, knocked on the office door and pulled a chrome revolver, demanding that she open the safe, according to the initial police report. She did so, and the gunman left with the cash, the report states.
In separate incidents, two shootings were also reported on Saturday. In the first, around 3:20 a.m., a 20-year-old man was walking in the 3300 block of Pine Street when he heard gunfire, and was hit in the leg and hip and grazed on his shoulder, according to the police report.
In the second shooting, a 24-year-old man and a 17-year-old woman were at the corner of Cambronne and Palm around 6 p.m. Saturday when a stranger walked up and began firing at them with a handgun, the police report states. The woman was hit in the leg, and the man was hit in the back, and the shooter ran off, the report states.
Anyone with information about any of these incidents should call CrimeStoppers at 822-1111.