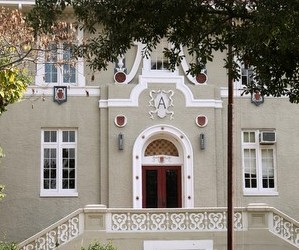 Audubon Charter School plans to begin taking concrete steps this fall toward the possibility of creating a new high school, officials said Saturday morning.
Meanwhile, Orleans Parish school officials are hoping to find a way to start renovations on the school's Broadway campus even as negotiations continue with neighbors over a pending lawsuit.
Back in December, in founding member Carlos Zervigon's last board meeting, he recommended the creation of an exploratory committee to begin investigating issues related to a possible high school at Audubon, calling it a "burning question" for many parents. The issue stalled during the spring as the board dealt with facilities issues around its Broadway and Carrollton campuses, but on Saturday morning, board chair Cornelius Tilton said it was time for the committee to begin its work.
Tilton named board members Jolynn King and Claire McDaniel, school operations manager Alisa Dupre, French school leader Elfi Cheynet and Montessori school leader Dennis Smith to the committee, and said he'll also sit on it as a non-voting member. The committee should have its first meeting in September, Tilton said.
"I think it will be wonderful for Audubon to have a high school option for our families," said King, mother of a fifth- and an eighth-grade student in the Montessori program, after the meeting. "It's a worthy project, but one that will take a lot of work on the school's part to find a solution that works for everyone."
Where to put a high school in a city where school facilities are in massive flux will be one immediate issue, she said, but also how to create a dual-track program that accommodates students from the school's two different, relatively unusual programs: full-immersion French instruction, and Montessori education. Immersion programs around the city have a difficult time retaining students into the upper grades, because those who leave can't be replaced by new students unfamiliar with the language — Audubon has about 13 eighth-grade students in French next year, compared to 44 in Montessori.
Having a high school, King said, will likely give families of French students more reason to stay in the program through middle school.
If Audubon Charter were able to maintain its high elementary-grade performance into a high school, it would represent a significant addition the public school offerings in Uptown New Orleans. Scores released earlier this month showed that only one open-admissions Uptown high school exceeded state averages in any subject last year, New Orleans Charter Science and Math High School — and that was only in two of four subjects.
* * *
Saturday morning's meeting also included an update from OPSB Deputy Superintendent Kathleen Padian on the status of the Broadway campus renovations and negotiations with the neighbors who have sued over the project. Their lawsuit is technically against the city for approving the larger-size building, but negotiations with them have primarily focused on the flow of traffic around the school during the morning dropoff and afternoon pickup, Padian said.
At the neighbors' request, OPSB has hired a transportation engineer to draft a comprehensive traffic plan, Padian said.
"We want to make sure that the safety of the children comes first," Padian said. "But we want to be good neighbors."
Meanwhile, OPSB has the permits in hand for pile driving, but not for construction, and contractors are continuing to do as much work as possible while the negotiations continue. Officials hope to keep the project on its schedule, because the FEMA funds paying for the renovation won't cover the cost overruns, Padian said.
Saturday's meeting also included adoption of the coming year's budget. To read our live coverage, see the box below.