Submitted for your approval, a young, mild-mannered New Orleans female who manages a store on Magazine Street.  She lives happily in an apartment in the rear of her shop, interacting with neighbors and contributing to the fabric of one of New Orleans' great commercial corridors.
Alas, this poor girl is about to come face to face with a place where reason and good manners have are given no quarter, a place we call…. The "Passive-Aggressive Neighbor Zone."
On Sunday, May 13, 2012, at approximately 9:00 a.m., this unassuming lady returned to her car parked on a side street near her business. She had recently acquired it as an additional vehicle to use for advertising purposes.  As she approached the car (which was legally parked), she noticed an ordinary piece of paper under one of her wiper blades on her windshield.
The letter (with the street name redacted) read as follows: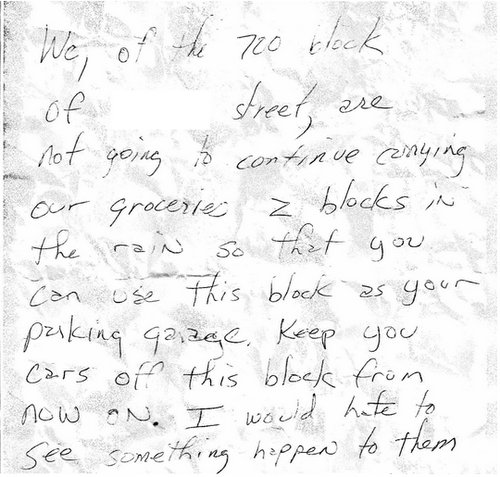 This letter was essentially the old Mafioso protection-racket threat. "Nice store you have here…  Hate to see something happen to it." The real message being conveyed is "play ball or I'll wreck your property." It's extortion 101.
Of course, here instead of asking for protection money, some neighbor was making an illegal demand that this poor lass "[k]eep you [sic] cars off this block from now on."  On a public street with public parking. This grammar-challenged resident conflates public property with his own which, as we all know, is a very dangerous proposition in this city.
Alas, this is not some fantasy out of the mind of Rod Serling. No, the "Passive-Aggressive Neighbor Zone" is not some ethereal plane where gremlins rip components out of airplane wings while William Shatner overacts in the cabin, or where a bibliophile cries in a post-apocalyptic wasteland because he just broke his reading glasses. It's much more real than that.
No, this plane of existence is the same as our own. It develops in tightly-packed neighborhoods where parking is a scarce commodity and where people are too dumb and self-involved to understand that they have no more right to street parking than anyone else.  Worse, it is prevalent along side-streets bordering major commercial strips where there is no reasonable expectation of being able to park close to one's house.
It can also extend to owners of commercial establishments, of course. Astute readers will recall my column from a couple of weeks ago in which I recounted being arrested after I was harassed by a local bar owner who ordered me to leave a public sidewalk he regarded as being "his corner."  I have since discovered that the responding officer, Terry Baham, failed to mention one crucial fact in his affidavit – that the incident occurred on a public sidewalk.
Problems always arise when people conflate public and private property. Public property is for everyone's enjoyment; private property can be jealously guarded and is protected from encroachment under the law.  However, even in cases involving private property interests Louisiana allows little avenue for self-help.  Except in exigent circumstances, citizens are supposed to call the police – not take the law into their own hands.
In other words, Mafioso extortion tactics are improper when protecting private interests; they're downright ludicrous when the person making threats has no legally protected interest at all.
We're not the only city that has this problem, of course.  In certain Chicago neighborhoods residents will call "dibs" on a parking spot after it's been dug out of a heavy snow.  They'll do so by blocking it off with trash cans, old furniture, etc.  If somebody parks in one of these spots anyway, they risk having their car vandalized.  This system of "dibs" has come under criticism in recent years, forcing the city to announce that it would no longer tolerate the practice.
At least in Chicago residents actually invested some labor in clearing a parking spot of snow before laying claim to it.  Here in New Orleans we have residents to claim ownership of street parking for no better reason than the fact that they happen to live nearby.  I believe the Yiddish term for this is "chutzpah."  The phrase "narcissistic jackassery" also comes to mind.
The moral is this: If you want guaranteed parking, buy your own.  Get a house with a driveway.  Otherwise, bite your lip whenever somebody steals "your spot," because you know deep down that it isn't actually yours.  Above all else, get over yourself.
Owen Courrèges, a New Orleans attorney and resident of the Garden District, offers his opinions for UptownMessenger.com on Mondays. He has previously written for the Reason Public Policy Foundation.