Two unique New Orleans traditions converge on Sunday, as the Mardi Gras Indians celebrate Super Sunday in Central City, and Catholics around the region begin honoring St. Joseph's Day with altars in homes and places of worship.
The Indians will meet at 11:30 a.m. Sunday at A.L. Davis Park at Washington and LaSalle. At 1 p.m., the Indians will parade from the park over to Martin Luther King Boulevard, up to South Claiborne, and back to the park, accompanied by some of the city's most prominent brass bands and social aid clubs.
The Indians' path will cross that of the Single Men Social Aid and Pleasure Club, who will also be second-lining through Central City on Sunday starting at noon. The Single Men will start at their home on Dryades Street in the Milan neighborhood, stretch through Central City and end at Foxx II Lounge in the Hoffman Triangle area.
For a complete route listing, see Gambit's website.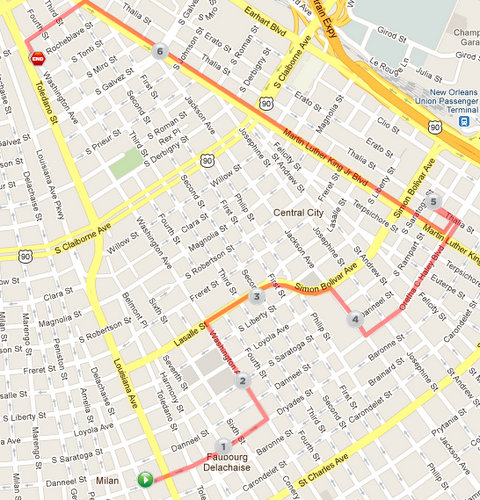 * * *
Though St. Joseph's Day is Monday, many of the altars dedicated to it will open to the public on Sunday. Below is a listing of St. Joseph's altars in the Uptown area:
The 19th Annual St. Joseph Altar in memory of Dianne Kirsch Williams at the home of A.J. Williams, (724 Marengo Street) continues the tradition of a woman who began celebrating the feast day after surviving cancer in 1989, and since her death in 2009 has been carried on by her family. The altar will open at 8 a.m. Sunday, receive a blessing by Monsignor Henry Engelbrecht at 12:30 p.m. and close at 6 p.m. It will then reopen from 8 a.m. to 3 p.m. Monday.
The public is invited, and all donations will benefit the Father Seelos Center. The family has been tracking their preparations on a Facebook page.
St. Alphonsus (923 Josephine St.) will have a blessing at 1 p.m. Sunday after the 10:30 a.m. Mass. On Monday, the viewing will run from 9:30 a.m. to 3:30 p.m., and the altar will break at 11:30 a.m.
St. Francis of Assisi church will hold its altar at the home of Joseph and Mary Talamo, 6122 Patton St., with a blessing at 6 p.m. Sunday followed by public viewing until 7:30 p.m. On Monday, viewing will take place from 1 to 6 p.m.
St. Stephen Church (1025 Napoleon Avenue) will present a St. Joseph altar by Monsignor Christopher H. Nalty on Monday with a Mass and Blessing during the 9 a.m. Mass. Lunch will be served from 11:30 a.m. For more information, call the rectory office at 899-1378.
De La Salle High School (5300 St. Charles Ave.) will have a viewing from 9 a.m. to 4 p.m. Monday in the school lobby, with a blessing at 9:15 a.m.
For a complete list of St. Joseph's altars around the region, see our partners at WWL-TV.