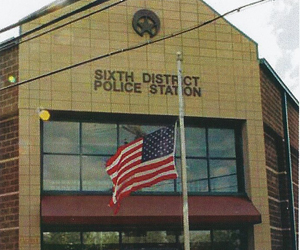 A New Orleans Police officer who found a toddler half-clothed and deserted in an abandoned car in the Milan neighborhood amid near-freezing February temperatures has been nominated for the Sixth District's officer of the month, authorities said.
The full account of Officer David Jones' discovery of the child is contained in his nomination, written by Sgt. Marc Hedgemon:
It is with great pleasure that I recommend Officer David Jones for Officer of the Month, February 2012. Officer Jones has consistently demonstrated self-motivation month to month, however, on February 11, 2012, at about 9:15 pm, Officer Jones took this trait to another level. Officer Jones conducted a traffic stop in the area of Foucher and Dryades street. During the traffic stop, Jones heard the repetitive sound of a vehicle's car alarm in the next block. Officer Jones, whose instincts found this to be peculiar, elected to give the driver of the vehicle a verbal warning and investigate the vehicle alarm sound.

Officer Jones relocated to the area of the alarm, the 1900 block of Foucher, and discovered the vehicle that's alarm was sounding was occupied by a young male child, seemingly around the age of 2 or 3 years of age. Officer Jones further looked in the immediate area and discovered no adult was present to supervise the child. It should be noted that the vehicle's engine was off and the current temperature was near freezing.

Officer Jones, after a few minutes, opened the vehicle's door to further investigate. Once he opened the door, he realized the unattended child was clad only in a wet diaper and T-shirt. Officer Jones lifted the child from the vehicle and immediate moved the child to his own NOPD police cruiser for warmth. Officer Jones immediately called for a Sixth District supervisor and New Orleans EMS to assess the child's health condition.

After attempting to "thaw" the child, Officer Jones attempted to locate the parent or guardian of baby boy. Jones knocked on the door of the residence immediately in front of the parked vehicle for nearly 5 minutes, to no avail. The parent of the child, after nearly a half-hour, finally exited the residence dazed and really not showing much concern about her young abandoned child. Jones contacted New Orleans Police Child Abuse at this point, realizing further investigation was warranted.

EMS determined the child was not in need of transporting to a medical facility, citing Officer Jones' quick and rapid response for saving this child from a near certain emergency crisis. The mother of the child was subsequently arrested for cruelty to a juvenile and child desertion.

It is for this reason Officer David Jones is recommended for February 2012 Officer of the Month.