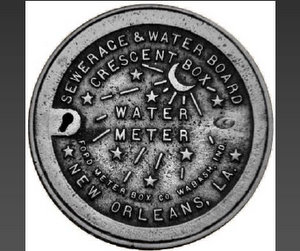 In its first public hearing on a plan to effectively double water and sewer rates over the next five years, the Sewerage and Water Board of New Orleans faced an audience skeptical about the agency's efficiency and worried about the impact of such a large increase on residents with fixed incomes.
Skyrocketing expenses related to the flooding and immediate aftermath of Hurricane Katrina and the rebuilding process in the years since, combined with fewer customers, has completely depleted the SWB's cash reserves, deputy director Bob Miller said in his presentation. Rate increases have been repeatedly denied, and the agency now suffers from a poor credit rating, deferred maintenance projects and a staff stretched too thin to answer the calls that it receives, Miller said.
The system is so strained, he said, that it is risking a total breakdown.
"At this point, we're holding on by our fingernails," Miller said.
The agency's proposal is to raise water rates by 14 percent and sewer rates by 15 percent each year for the next five years, effectively raising customers' bills by more than 90 percent. The agency also proposes a new fee for drainage services that would either be an addition to property taxes or a fee based on the amount of impervious surfaces on the property. A monthly bill that's now $52.50 would rise to $103.65 by 2016, and more increases would be needed in the years that follow, Miller said.
The agency's plight found little sympathy among the 30 or so audience members at the Dryades YMCA on Monday evening. One comment card simply read, "Enough already. … No, no, no." And the first comment following Miller's presentation was from City Councilwoman Stacy Head, in a written statement read by her chief of staff, Eric Strahan.
"Councilmember Head is concerned about asking the customers to pay higher bills without first improving the inner workings of the entity," Strahan read, pointing to specific concerns about savings on personnel expenses and increasing collection rates.
State Rep. Austin Badon, who will be competing against Head and others in the March 24 election for the open at-large seat on the City Council, attended the hearing and voiced his own concerns.
"I'm against this rate increase. You've got to find another way," Badon said. "The people of New Orleans cannot afford this."
Badon and a number of people in the audience Monday questioned how the elderly and the poor will be able to afford their sewer and water bills being doubled. Miller repeated several times that the officials felt the fairest way to raise the money was to apply the increase equally to all customers, but by the end of the meeting said the agency would take the concerns about fixed-income customers under consideration.
To read our live coverage of the public hearing, click in the box below.