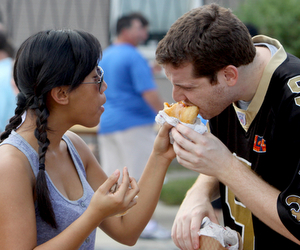 Judges at this year's Oak Street Po-Boy Festival named WOW Wingery Shanghai Shrimp Po-boy the "Best of Fest," organizers announced today, and also awarded the Bread Pudding Po-Boy from Carrollton favorite Saltwater Grill the best specialty non-seafood entry.
The Shanghai Shrimp also won the best shrimp category, according to the festival website. Other winners were:
Best Specialty Seafood: Ridge Deli & Bistro's Shrimp Remoulade Po-boy
Best Specialty Seafood/Non-Shrimp: Redfish Grill's Flash Fried Oyster Po-boy
Best Poultry: Sammy's Ray Ray Po-boy
Best Meat: Blue Dot's Pork Doboy Po-boy
Sammy's and Redfish Grill were also among the winners in 2010.