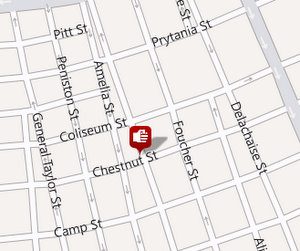 A man walking home from a Prytania Street corner store was attacked and stabbed Thursday evening for apparently no reason, police said, and the attack came so quickly that he was unsure how many people were even involved.
The victim had reached the 1300 block of Antonine on his way home about 8:30 p.m. when he was struck from behind, said Sgt. Chris Billiot of the NOPD Second District persons-crimes division.
"As far as he knows, someone just attacked him," Billiot said. "He doesn't remember them saying anything."
The victim suffered several cuts and at least one serious stab wound to the back, but managed to walk back to the store and call paramedics, Billiot said. His wallet was missing, but his clothes were so shredded it may have fallen out, so it's not certain that robbery was the motive, Billiot said.
The man does not believe he was followed, but the store had no surveillance video that could determine that for sure, Billiot said. Any private property owners with their own surveillance cameras in that area of Antonine — or anyone with other information related to the case — are asked to call Second District detectives at 658-6020.