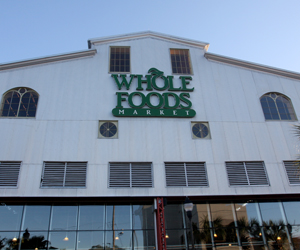 After nearly a year of discussions and negotiations with neighbors and the city, Whole Foods Arabella Station will now be able to stay open an hour later on Sundays and display plants for sale on its front patio, with the official approval Thursday of only the least controversial of its requested changes to its operating agreement with the city.
Specifically, Whole Foods will now be able to stay open until 9 p.m. on Sundays — matching its closing time the rest of the week — with the condition that it finish all its exterior maintenance and cleanup by 10 p.m. nightly. The store can also display plants, flowers and pumpkins for sale along its Magazine Street side, but no more than four feet out from the front wall.
The store had requested an increase in the number of 18-wheelers allowed to make deliveries per day from one to four, and an extension in the deadline for deliveries from its present cut off at 11 a.m. to a later time of 3 p.m. Those changes, the store has argued, would have the effect of decreasing the amount of deliveries from smaller trucks, as well as spreading their arrival through the day to reduce congestion.
But Councilwoman Susan Guidry, whose district includes the Whole Foods store, said she found the extended loading times unnecessary, because the store already has to do most of its loading before its 9 a.m. opening to avoid shutting down parking spaces around the loading bays. She also sharply rejected the request for more 18-wheelers.
"I find that the one 18-wheeler is the single most damaging thing about Whole Foods operations," Guidry said. "It damages trees, it damages sidewalks, it damages the streets, it's damaged people's cars, and people infrequently — but sometimes — have to wake up in the morning and move their cars for the 18-wheeler to move in."
Guidry had recommended allowing a fifth request by Whole Foods, permission for live music at the store, with the specifications that the performances must obtain special permits, be finished by 6 p.m., and not take place more than 20 times per year. Facing strong opposition to any concessions by the neighbors who spoke at Thursday's meeting, however, the other council members balked, noting that no other groceries around New Orleans have music performances either.
The hour-and-a-half of debate over the project Thursday followed similar lines to previous appearances over the past year before the Audubon-Riverside Neighborhood Association and the City Planning Commission. Whole Foods argued that the changes were necessary to accommodate an unanticipated volume of customers since it opened in late 2002, with attorney Stephen Hanemann saying sales in 2003 were 30 percent higher than projected, and that they have increased by 45 percent since then.
"Whole Foods is only asking for what it absolutely needs to meet the needs of the community," Hanemann said.
Neighbors countered that the store has not followed the initial conditions well, and that the changes would allow future tenants even more latitude for negative impacts. Robin O'Bannon, who has been one of the most vigorous opponents to the Whole Foods requests consistently throughout the year, told the council she had collected a petition of 250 neighbors against the changes.
"This is not about Whole Foods the grocery store; this is about Whole Foods the neighbor. We all love Whole Foods as a grocery store, but Whole Foods the neighbor is a terrible neighbor," O'Bannon said. She also pointed out that Whole Foods does not own the property where the changes will be made; Arabella Station LLC does. "I ask that you not make changes that will negatively affect our neighborhood forever, while their tenant Whole Foods can pick up and leave at any time, leaving our neighborhood with a trail of destruction."
Led by Guidry, the council members opted for a middle path, praising Whole Foods for its success but saying that the neighborhood itself has not changed enough since the store's opening to warrant much change in the operating conditions. As they have done in denying previous land-use requests for a the Gabrielle restaurant and Japanese grocery and coffee shop, the other council members bantered about the neighborhoods that would be most receptive to a second Whole Foods location. Stacy Head pitched O.C. Haley Boulevard, South Claiborne Avenue, or Canal Street; Jon Johnson offered New Orleans East; Kristin Gisleson Palmer and Jackie Clarkson suggested Algiers.
"We have everyone driving to one location," Palmer said, noting the environmental impact.
The competition for Whole Foods' customers may be about to get much stiffer. Costco is considering a store on South Claiborne Avenue, and as a top retailer of fine wines, may draw some of Whole Foods' shoppers. Elsewhere in the city, actor Wendell Pierce is a partner in developing Stirling Farms, another grocery focusing on fresh food. And Councilman Jon Johnson hinted that another major competitor to Whole Foods may also be looking at New Orleans.
"I know that some of us have been talking to some of your competitors," Johnson said, "and I won't necessarily call those names, but it's like a 'T,' 'J' initials."
Contact Robert Morris at rmorris@NolaMessenger.com, or post your comment below.