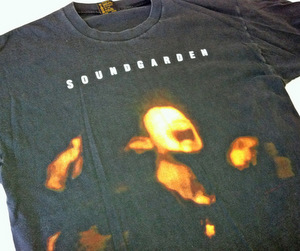 My ears rang for 3 days the first time I saw Soundgarden and, despite the pain and hearing loss, the experience (to use the vernacular) was sweet. They opened for Guns N' Roses in Houston on the second leg of Guns' Use Your Illusion Tour; the venue where it was held, The Summit, is strangely enough now a church.  The second night of a two-night stand but also a Friday night, three of my closest friends and I drove over from Beaumont to see the show.  That Friday morning the select few in our class that had actually had the opportunity to see this double bill the evening before (read: Thursday) recounted their experience.  And we listened in awe to their stories, furthering our already eager anticipation.  We couldn't wait to see Guns N' Roses; not one of us had ever really heard of Soundgarden.  The evening before Axl had said this.  And Slash had done that.  There were other visual spectacles on par with an evening on Bourbon during Mardi Gras.  Nonetheless my 17-year-old self had no idea I was about to become a Soundgarden fan.  That and my more-or-less girlfriend around that time, Leigh Anne, was into them.  After all, most romances generally produce some level of musical compatibility, do they not?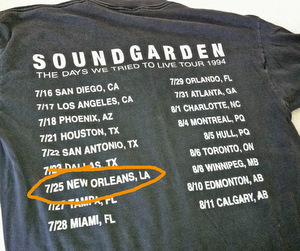 Soundgarden was promoting their then-latest offering Badmotorfinger, which hosted two of the more recognizable grunge anthems, "Outshined" and "Rusty Cage."  MTV's 120 Minutes (Remember 120 Minutes? Remember videos?) ate them up but then so did Headbanger's Ball (And remember Headbanger's Ball!?).  And years later the late Johnny Cash even covered the latter.  Oh 90s!  You were so cute in your flannel, Gen X posings, and Rick Rubin sounds.  But Soundgarden possessed a more accessible yet still metallized sound that not all grunge bands fell into.  This gave them a distinction from other Seattle bands gaining ground at the time. Unlike the untimely early end to Nirvana or the aw shucks melancholy of Pearl Jam, Soundgarden strode forth as an often unmatched rock force of its time.  In my college dorm room I spun Badmotorfinger many an afternoon, though my roommate Joey Auzenne was not a fan.  (Amusing sidenote: Joey is now a working actor in New York and recently traded lines opposite Ice T on an episode of Law & Order SVU, and Soundgarden on the 1992 Lollapalooza tour setlist routinely covered Ice T's band Body Count's "Cop Killer."  Digression accomplished.)
The '90s were good to the band, but by the new millenium Soundgarden was on an undetermined hiatus.  Then one The Onion story later, rumors a-rumbling and spring 2010, they were reformed and back at it.  Now with their long-awaited return to the Crescent City headlining this Friday at Voodoo Fest and last scheduled appearance of 2011, I am giddy.  Especially because I have been unable to experience Soundgarden since their return to the stage.  The last time I saw them was their headlining show at UNO Lakefront Arena with Rev. Horton Heat opening in summer 1994.  The tour promoted the success of Superunknown, and while my seats weren't the best it was simply amazing.  Moreso because at the end of the show, there was a secret encore.  While most of the audience began to exit after the lights came up and and the roadies began to disassemble the stage, my friends and I lingered basking in post show afterglow.  That and our seats were so high up everyone had to leave before we could anyhow.  Then when more than half had left, the lights went back down and the roadies stopped working.  The band came back out and lead singer Chris Cornell noted "Looks like we lost a few people."  In fact more than half the venue had emptied.  We darted down to the floor and enjoyed two more songs that included "Head Down" and "Hands All Over."  I just couldn't believe it.
Now, 17 years later, I'm very much looking forward to seeing Soundgarden's return.  Same line-up.  Same sound.  Likely a different energy?  We'll see.  17 years is 17 years.  And while I would love an encore to the secret encore, I won't hold my breath.  Voodoo runs a tight ship and they need to stay in the good graces of their residential neighbors surrounding City Park.  A few years back I recall The Black Crowes had to cut their closing set short due to Snoop Dogg showing late then overstaying his time.  So it goes, and so it went.  In lieu of a secret encore perhaps an after-party at One-Eyed Jacks?  It could happen, but again I won't hold my breath.  I will however be bringing my earplugs, and I think you might want to as well.  Just sayin'.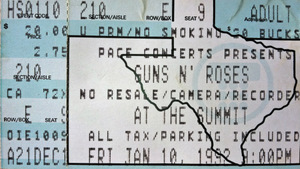 Jean-Paul Villere is the owner of Villere Realty and the Du Mois gallery on Freret Street and father of four girls. In addition to his Wednesday column at UptownMessenger.com, he also writes an occasional real-estate blog at villererealty.com and shares his family's adventures via pedicab on Facebook and Twitter.