[The following letter to the editor was written by Tim Garrett, State Street Drive neighborhood activist and administrator of NOLAhoods.com and AskNOLA.com]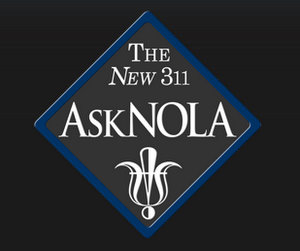 As the owner/manager of AskNOLA.com, I may be biased, but I suspect many other native New Orleanians share my assessment of the current "citizen complaint hotline" hosted by City Hall:
Its hours are too restricted: Try dialing 311 at 5:01pm or during the weekend.  A recording asks you to call another day; you cannot leave a message.  The operators are poorly trained: Many of my calls get routed to the wrong department ("I said street light, not traffic signal"), and I'm forced to redial.  That's quite an inconvenience, especially for tourists, drivers and cyclists.
The City's dialup-only hotline accepts just a handful of report types, excluding common complaints like water leaks (call S&WB), utility poles (call Entergy), highway signs (call DOTD), chemical spills (call DEQ), stray animals (call SPCA), etc.  (AskNOLA forwards all of these and many more by phone, mobile app or email 24/7.)  Callers receive no confirmation, callback or status report.  Worst of all, others have no way to check whether a problem has already been submitted (AskNOLA maps existing complaints), so reports are constantly duplicated.  For most citizens, the 3-1-1 system remains a frustrating black hole – items check in, but they never check out!
One year ago, the Landrieu administration promised us a fully operational, multi-service, GPS-enhanced, mobile-enabled 2-way system for Orleans Parish.  It was presented, discussed and funded by City Council. But when will it ever materialize?  Last summer, they said "November."  Then we heard "wait until March," and later "end of Q2."  At a BlightStat meeting in June, we were told "not until September," while at the Mayor's August town hall meeting, his staff indicated "November of this year."  Don't hold your breath, I say.
In the meantime, City Hall warned everyone (NOPD included) not to use AskNOLA.com (see Jan. 17, 2011 T-P article by Michelle Krupa), even though it works perfectly and costs taxpayers exactly $0.
Hey, at least I tried…
Tim Garrett
timg@nolahoods.com