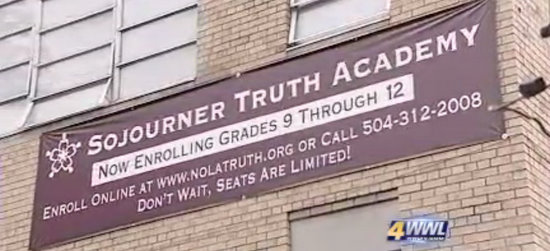 The Sojourner Truth Academy community was stunned this week to learn that the school may not be returning to its current building on Freret Street next year, and on Thursday discovered its fate is entangled with a post-Katrina realignment of federal education money between the state and Orleans Parish.
The charter high school spent the past year in the Our Lady of Lourdes building owned by the Archdiocese of New Orleans. Though the school's charter is with the Recovery School District, the Orleans Parish School Board held the lease with the archdiocese under a post-Katrina federal mandate to provide classroom space for the RSD. Now, Orleans Parish wants out of that equation, said OPSB Superintendent Darryl Kilbert on Thursday.
"We are no longer interested in being a third party," Kilbert said to room packed with Sojourner Truth supporters during the school board's property committee meeting. "That gives you the opportunity to go directly to the archdiocese and conduct that lease."
With two state officials in the room, Kilbert agreed to discuss redirecting the federal reimbursement for the classroom space to RSD. With those negotiations ongoing, the new superintendent of Sojourner Truth found some breathing room.
"This strong show of support is a testament that we really do care about the future of our school," superintendent Reginald Flenory told the crowd of teachers, students and parents that came to the meeting. "Has a decision been made? It sounds like it has. But there's still an opportunity for us to remain where we are, so we're imploring the RSD to allow us to stay where we are."
The information that the lease was bound up in the relationship between the RSD and the OPSB came as some surprise to the Sojourner Truth crowd, however. Flenory and Sojourner Truth board president Bob Burvant said the school was told Tuesday they were losing their lease because of complaints from the Freret neighborhood, but that they were only aware of one complaint (about student behavior before school) that came after the school year ended and that had already been addressed.
Flenory stressed that Sojourner Truth's charter is based in service-oriented education, and that the school would be an asset to Freret.
"The essence of many great neighborhoods really is a great school," Flenory says.
Even if the lease is renewed, Sojourner Truth may only have one additional year at the site. OPSB Chief Financial Officer Stan Smith said after the meeting that conversations about the lease suggested that the archdiocese wants the building back for the 2012-2013.
"At best, it's only available to anyone for a year," Smith said.
To read our live coverage of the meeting, click "Replay" in the box below.
For more information, see this report from our partners at WWL.
Contact Robert Morris at rmorris@NolaMessenger.com, or post your comment below.