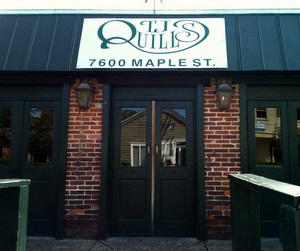 A second popular college bar on Maple Street is working with the city to create list of voluntary operating conditions that will allow it to avoid stricter sanctions on its liquor license.
Like Rocco's bar last month, T.J. Quills is now working with city prosecutors to draft a "consent judgment," said bar attorney David Motter at Tuesday's meeting of the Alcohol Beverage Control Board. These documents are intended to reduce whatever conditions led to the complaints against the bar, and can carry strict legal penalties for violations.
Last month, Rocco's agreed to rules that require it to contribute money to the neighborhood's off-duty police patrols, ensure that no music is audible outside the bar, keep that patrons inside, and to reduce go-cup litter. At Tuesday's meeting, City Attorney Dan McNamara declined to comment on what sort of conditions T.J. Quills might be facing, since the case is still open.
T.J. Quills will return before the board Aug. 16. Other Uptown establishments with pending cases also scheduled for the same day are the Precinct on Annunciation, the cluster of businesses in the former Wagner's Meat building on South Claiborne, the Key Food Store on Louisiana Avenue and the Daiquiri Island complex in the 7900 block of Earhart.
To read our live coverage of the meeting, click "Replay" in the box below.