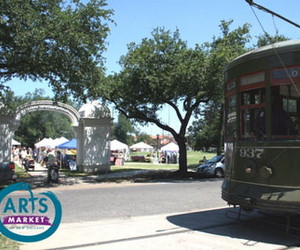 "Latin Fiesta" will be the theme for June's Arts Market of New Orleans, held from 10 a.m. to 4 p.m. Saturday in Palmer Park at South Carrollton and South Claiborne.
From the Arts Council of New Orleans website:
The monthly market presented by the Arts Council of New Orleans featuring the region's best artists, live music and good food starts the 4th annual "Fun in the Sun" summer series with a Latin Fiesta. Local artists will exhibit handcrafted works- including stained glass, metal sculptures, and paintings to ceramic pieces, yard art, and prints- that evoke New Orleans' unique cultural mix with an exotic flair.

Presented by the Arts Council of New Orleans, the Arts Market takes place the last Saturday of every month in Palmer Park (where South Carrollton Avenue meets South Claiborne Avenue). The Arts Market of New Orleans is free and open from 10:00 a.m. to 4:00 p.m. – featuring more than 100 local artists, live music showcasing New Orleans musical heritage, a performance and creative crafts for children. Food to satisfy every craving and drinks on ice are sold in the Cuisine Corner; enjoy a fish taco prepared by Woody Ruiz of Woody's Tacos or a meal from new food vendor Brazilian BBQ.

Fused glass artist Jerilyn LaVergne of Sunset, Louisiana lived in Lagos, Nigeria and spent seven years experiencing West African culture which deeply influenced her creations. Her brightly colored designs are both utilitarian and flow with the richness and energy of the tropics.

Photographer Joshua Lee documented Rio de Janeiro during Carnival 2010 bringing home images of the celebration, the people and the landscape. He marveled at the similarities to New Orleans-Joshua stated, "It's an old, Catholic city with heat, color, and costuming that constantly reminded me of New Orleans. The Arts Market patrons have shown a tremendous amount of curiosity about my Brazilian series."

Music Tent: Live performances in the Music Tent include Riccardo Crespo & Sol Brasil at 1:00 pm followed by Latin jazz by The Dan DeSandro Quartet at 2:30 pm.

Kids Tent: Patrice Fisher & Arpa with the Garifuna Connection presents the culture and music of the Garifuna, Central Americans of West African descent to kids of all ages at 10:30 am. Make Awesome Aztec Masks for the craft project of the day after the show.
Palmer Park is also the location of the newest KaBOOM! playground in Uptown New Orleans, which neighbors say has been well-used since its grand opening two weeks ago.