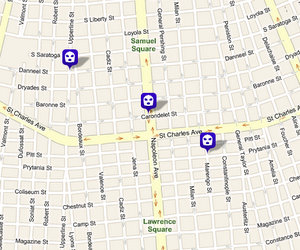 The wave of muggings through Uptown New Orleans continued Wednesday evening when three more robberies were reported within an hour's time, bringing the total number of holdups at gunpoint to more than a dozen in less than two weeks.
Just before 8 p.m., a woman walking on Prytania Street toward Napoleon was approached by a stranger with a dull-colored semi-automatic handgun who demanded her purse, then took it and left on foot down Marengo Street, said Lt. Mike Montalbano of the NOPD Second District investigative unit.
Less than half an hour later, a woman walking in the 1700 block of Napoleon passed a man who said, "Good evening," then fell into step beside her, Montalbano said. The man then pressed a handgun to her face and demanded her bag, took it and left, police said.
About 15 minutes after that, a couple walking on Upperline reached the intersection with Danneel Street, where two men were waiting, Montalbano said. One of the men drew a gun from his waistband and demanded the couple's belongings, grabbing the woman's purse and tossing it into the street, where the second man went through it for the ATM card, Montalbano said.
Meanwhile, the gunman pushed the male victim into the bushes, and when the victim tried to rise, hit him in the face with the gun, Montalbano said.
The Prytania Street robbery was about six blocks from the Napoleon robbery, and the Upperline robbery another seven blocks after that. Based on the cases' close proximity and the short time between them, NOPD Second District Commander Darryl Albert said they are most likely related.
"It's going to be the same little crew," Albert said.
In the first robbery, police got a detailed description of the suspect: a black man in his mid-to-late 20s, just over 6 feet tall and about 170 pounds, wearing all black clothing with a gold chain and a mustache. Albert said anyone in the Uptown area who might have seen him, or anyone who sees someone fitting his description, or anyone suspicious at all, should call 911 and inform police.
A total of 17 robberies have now been reported in Uptown New Orleans this month, including 13 at gunpoint in the last two weeks. Montalbano and Albert suggested Uptown residents find ways to avoid being alone outside after dark, such as letting someone at home know when you are driving up so they can make sure you get safely inside.