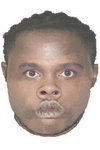 Investigators have released a computer sketch and detailed description of the suspect in a robbery and shooting in Gert Town, and are urging anyone who may have seen the man to call with information.
At 6:20 a.m. Monday, a man was walking to work near the intersection of Fern Street and Mars Place when he noticed a bicyclist conferring with the driver of a white Dodge Charger, police have said. The Charger made the block and returned, and the driver got out with a handgun, demanding the victim's money.
The victim said he had none, and the gunman replied that he was dressed for work, so he must have money, said Sgt. Shaun Ferguson of the NOPD Second District persons-crimes division. The victim pointed to his employer's name on his shirt, and when the gunman looked at it more closely, the victim tried to grab his gun, Ferguson said. They struggled, and the gun went off, striking the victim in the shoulder.
The bicyclist then joined in the tussle, helping the gunman pull away from the victim, and they left, firing several more shots at the victim but missing each time, Ferguson said. No property was stolen from the victim.
The driver of the Charger is the subject of the police computer-aided sketch. He's described as a 6-foot-4, 230-pound dark-skinned black man, about 28 years old, with hair braided to the neck, wearing a dingy black T-shirt, black American Eagle jeans and black Air Nike shoes. His car is described as a 2006 or 2007 white Dodge Charger with a black stripe and the word "Hemi" written in white over the rear fender well, police said.
The bicyclist, whom police do not have a sketch of, is described as a 6-foot-2, 200-pound light-skinned black man, about 24 years old, with a fade hairstyle, wearing a black T-shirt, black jeans frayed around the ankle and black Adidas shoes.
Anyone with information about these two men should call Detective Nathan McGhee at 658-6482. To leave an anonymous tip that may be eligible for a cash reward, call CrimeStoppers at 822-1111.