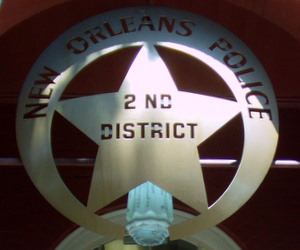 As many as five of this past weekend's armed robberies around Uptown New Orleans could have been committed by a single person on a spree through several neighborhoods, police said Wednesday.
Two robberies in the Hurstville neighborhood on Saturday morning and three in a short period Sunday night (two in Carrollton and one in the Touro area) were all committed by a solitary gunman with the same general, vague description: a dark-skinned black man in his late teens or early 20s, about 5-foot-7 and weighing about 150 pounds, wearing a plain T-shirt and pants, said Sgt. Shaun Ferguson of the NOPD Second District persons-crimes unit.
None of the gunman's specific physical characteristics, mannerisms or phrases stood out to the robbery victims, however, so the possible link is simply based on the suddenness of the spree, the geographic proximity of the cases and the basic similarities in the descriptions given by the victim, Ferguson said. Further, the one distinguishing element of the Hurstville cases – the gunman was hiding the lower portion of his face with a cloth of some kind – was not repeated in the Sunday night robberies, Ferguson noted.
"One day his face is covered, the next day it's not," Ferguson said.
Investigators got one strong lead in the case when a witness in the Hurstville neighborhood reported seeing a stranger fitting the suspect's description get into a maroon sedan and take off from the area around the time of the robberies, Ferguson said. A maroon sedan was subsequently found by patrol officers abandoned in the 1900 block of General Pershing Street in the Milan neighborhood, with a fair amount of clothing and other items inside. That vehicle is currently being searched to determine if any items stolen in the robberies were left inside it, Ferguson said.
Anyone who may have information about the suspect or the abandoned vehicle should call either the Second District at 658-6020, or call CrimeStoppers at 822-1111 to leave an anonymous tip that could be eligible for a cash reward.